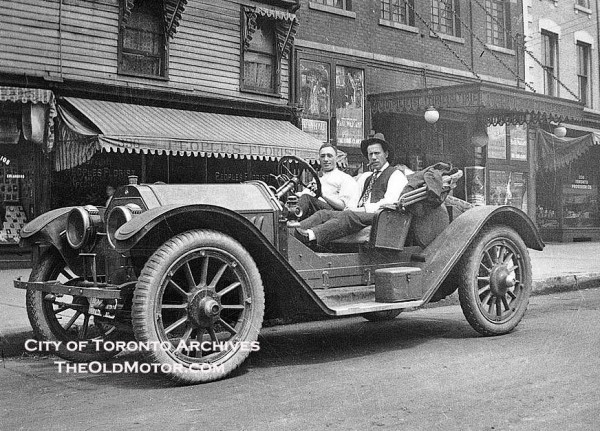 Today we have a pair of very interesting photos taken in Toronto, Canada. Lou Turofsky is seen posing (above) in his first car, a 1911 or 1912 Oldsmobile Autocrat Speedster, complete with a top. The photo was taken near the original Alexandra Studios, at 322 1/2 Queen Street West. The Autocrat was the mid-sized Olds that was on a 124″ w.b. and carried a 471 c.i. 5″ x 6″ bore & stroke four-cylinder engine.
Two Olds advertisements can be seen (below), both from The Motor Magazine during the year of 1911. You can also see an  Oldsmobile Autocrat Touring Car (scroll down)  and see many photos and learn much more about the  Oldsmoble Limited,  the biggest Oldsmobile of the time, with a 707 c.i. six-cylinder engine, also here on The Old Motor. The photo was by the Alexandra Studios.
Reverend J. D. Morrow is also seen posing (below) in his first car, a Scripps-Booth Roadster cycle car with double-belt drive in 1914. You can learn all about the Scripps-Booth and see many more photos in another post here on The Old Motor. The photographer was William James. Both of these photos are courtesy of the City of Toronto Archives.