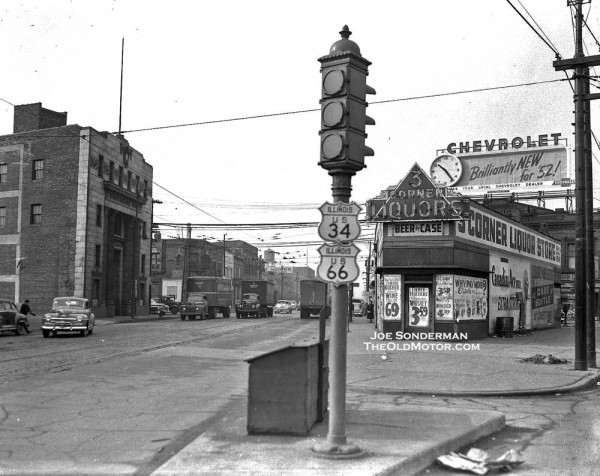 The exact location of this photo is not known but Joe Sonderman, whose collection it is from, believes this is the triangle formed by Ogden (Route 66) Cermak and Pulaski in Chicago. He noted that the 3 corners building is still there but looking pretty rough. If you know its exact location, please let us know.
What we spotted in the scene are a bank on the left and also some very interesting signage; the Chevrolet billboard with the catchy slogan, Brilliantly NEW for '52! featuring a clock and the signs on the 3 Corner Liquor Store.
At the store you could buy a quart of New York State Concord wine for 69 cents, with whiskey selling for between $3.59 – $4.39. On the right hand side of the store is a sign for Canadian Ace Beer, which was now "Extra Strong."
The photo is courtesy of Joe Sonderman who has a  Route 66 photo  collection (scroll down) that we have been posting in a series. He has written many interesting books about Route 66, one covering Arizona you can see here.