Steam-powered machines have not been covered lately in any detail here on The Old Motor, so we picked an interesting story on three forms of travel by this type of motive power.
The Besler Brothers were involved with the plane, train and the automobile, but do not appear to have built any from the ground up. After buying out the Doble Steam Motors Company after it failed, they continued on with its development of that car with with Abner Doble. Next they turned to the airplane and finally we will show a locomotive they rebuilt with a new form of steam engine that you will learn about in Part II.
First off is a short newsreel film (above), where you will see a Travel Air plane the Beslers and Doble adapted to operate on steam power, watch it fly and also learn quite a bit about it.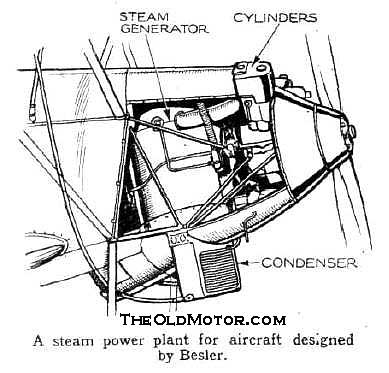 Above is an illustration from the British journal Flight showing the steam power plant installed in the nose of the Travel Air biplane.
This famous airplane was based on a Travel Air biplane and flew at least several times at the Oakland, CA., Airport during 1933. It was powered by a two-cylinder, 150 hp vee-twin steam engine that was designed by the Besler's and Abner Doble. The complete unit including the burner, boiler and controls weighed in at about 500 lb. One benefit to the steam engine in an airplane, was the ability to change its direction very quickly and use the reverse thrust of the propellor for quick stopping. It has been stated that in landing at 50 mph, the craft could come to a stop within 100 feet.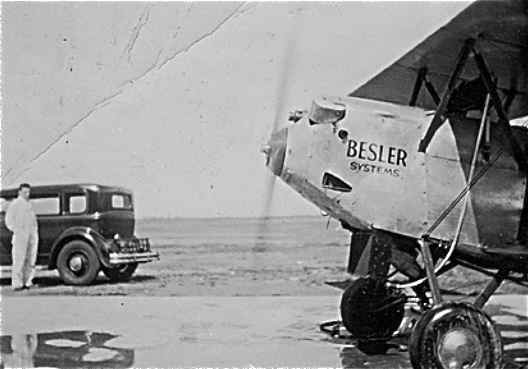 Photo (above) courtesy of  Virtual Steam Car Museum, where you can see more photos of the aircraft and engine development.
You can also learn more about this craft in excellent coverage of it, complete with photos and illustrations, which were in the July 1933, issue of Popular Science at Modern Mechanix. In our next post Part II, we will cover the Besler Steam Train. If you enjoy reading and learning about steam we have many more posts here on The Old Motor all about steam-power.