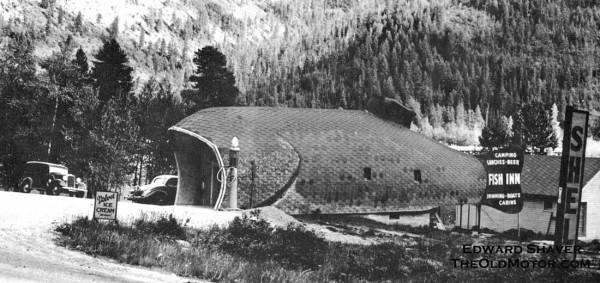 After America committed to building a system of good roads across the land during the early part of the last century, businesses then followed that catered to and served the needs of the motorists who were traveling on them. Many of the buildings built during this period of 1920-1940s, were very creative in form and designed to attract the travelers attention. The Fish Inn located outside of Coeur d'Alene, Idaho, was one of the most successful attention-getters of its type built at the time.
The unique-looking Inn was constructed in 1932 for Mamie and Kenny West. The couple chose the form after a neighbor brought them a fish he caught as a welcoming gift, at the very same time the builder was asking them, what they wanted the new building to look like. The seed was planted, they considered the request and then told the builder to make it look like the fish.
The location was on US-10, the main east-west highway that crosses northern Idaho. In addition to being able to purchase gasoline, postcards and ice cream, the motorist was invited to stay for a dinner of fresh trout, which was caught in Lake Coeur d'Alene, take out a boat and also spend the night in a cabin.
The interior of the Fish Inn, later went on to become decorated with over 4000 dollar bills signed by travelers who stapled them onto the walls. This occurred after a man asked a women to marry him, by writing the request on a dollar bill and she answered back yes, also on a dollar bill. The inn continued on serving locals and travelers until it burned on February 17, 1996.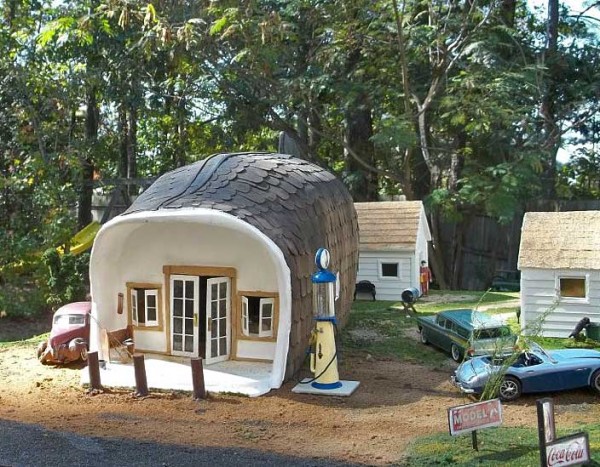 Reader Edward Shaver after seeing the recent photo of the "Fish Float", sent us the photos and postcards seen here and also photos of the amazing model of the Fish Inn that he has constructed.
After building the structure Shaver then painstakingly crafted and glued on all of the 100s of shingles onto its exterior. The Inn is also complete with hand made interior furnishings and lighting. Shaver then set it up on the amazingly complete diorama seen in the photos, which he constructed including a gas pump, cars and models of the cabins that were also on the property.
You can learn more about Coeur d'Alene, the city on the water and some of its history here.