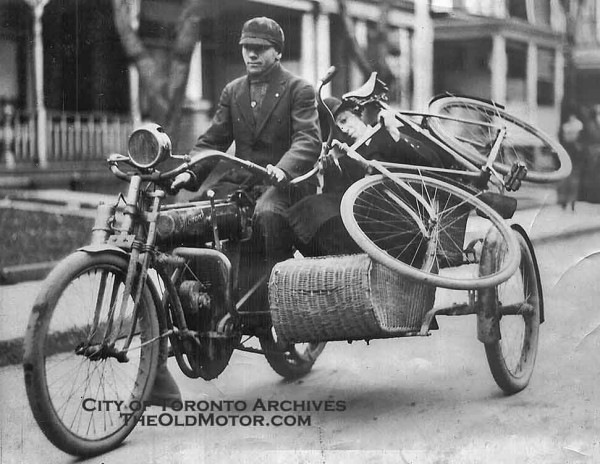 This interesting photo shows us a Monarch motorcycle owned by the William James & Sons Photographers, of Toronto, Canada. The book from Horse Power to Horsepower by Mike Filey, shows another photo of this rig with his two sons carrying a ladder and in the books text, lists William James as being a freelance photographer-journalist. Here we see William James sons, William Jr. and Joseph, posing in the motorcycle and wicker-bodied sidecar, the photography firm used in its business pursuits.
The machine appears to be a Monarch Big 5 Model, which sold for $200 and was handled by the Ives Motorcycle Corporation, of Owego, New York. Ives sold the Monarch, which was a rebranded Reliance Motorcycle, between 1912-15. The Reliance Company went out of business in 1910 and it appears that Ives bought the complete line of 30.5 c.i. and 37 c.i. singles, along with the 61 c.i. twins they sold. Photo courtesy of  The City of Toronto Archives.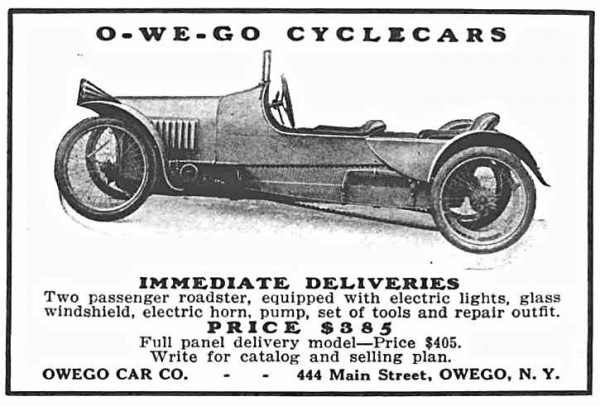 In early 1914 the Ives corporation went on the form the O-WE-GO Cyclecar company and built a factory for the manufacture of them in Owego, New York. Full details of the machine and its manufacture can be seen in the advertisement (above) that was in the July 2, 1914, issue of The Automobile and (below) in two separate articles that were also in The Automobile.
You can also learn much more about the little cars and see photos of a surviving  O-WE-GO Cyclecar in an excellent article written by Jim Donnelly, which appeared in the March, 2010 Hemmings Motor News.
If you enjoy cycle cars, you can read a detailed article here on The Old Motor about the Scripps-Booth.