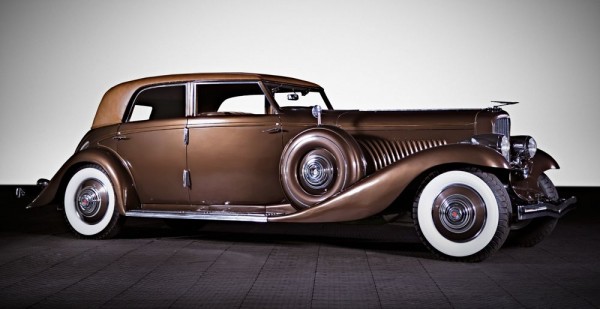 Gooding and Company is having their annual auction at Amelia Island a week from Friday on March 8. We are sharing with you a few of the choice lots from the sale and will start off with Bill "Bojangles" Robinson's Duesenberg.
Born in Richmond, Virginia, in 1878, Bill Robinson was one of the most popular American tap dancers ever to grace the stage. Greatly admired by all audiences, Mr. Robinson was an inveterate entertainer whose seemingly limitless charms and talents served to break new ground for African-American performers.
The coachwork that Rollston supplied was designed specifically for the new JN series that Duesenberg had recently introduced to bolster sales. For the new model, Rollston succeeded in combining streamlined contours with the elegant, classical restraint of the original Model J. In total, just three body styles were offered: convertible coupes and convertible sedans were available on the standard-length chassis, and sports sedans were produced strictly for the long-wheelbase chassis.
Designed by legendary stylist J. Herbert Newport, the JN featured soft, sweeping curves, smaller 17" disc wheels, skirted front fenders, small dual taillights in place of the classic Duesenberg stop light, and elegant carriage- body sills that brought the bottom of the doors very close to the running boards. On all JN body styles, the roofline, belt-line, and side molding were carefully arranged and integrated to introduce a long, sloping rear deck and thus, a graceful profile.
In spring 1935, Duesenberg prepared chassis 2587 with engine J-559, trimmed the Rollston body, and delivered the completed car to the New York factory branch as a stock unit. On July 9, 1935, Duesenberg Sales Corporation of New York sold the Model JN Berline to Bill "Bojangles" Robinson for the princely sum of $17,500.
Although Robinson took delivery of his car in New York, it did not remain on the East Coast for long.
In 1936, the JN was sent to Bohman & Schwartz Coach Builders in Pasadena, California, where it was updated with Cadillac bullet headlamps, special parking lights on the front fenders, modern one-piece bumpers, and a painted radiator shell with matching headlamps. Additionally, the windshield was reworked so as not to open forward, as intended in the original design.
Freshly restyled in the latest automotive fashion, the Duesenberg was one of Robinson's proudest possessions and was often seen parked in front of his Paul Williams-designed home in the heart of Los Angeles. After retiring from Hollywood, the world-famous tap dancer returned to New York with his stylish Rollston Berline in tow.
When Robinson passed away in 1949, his Duesenberg was stabled at famed New York garage Zumbach Motor Repair Company, Inc. at 127 West 53rd Street, where it underwent service and repairs. As a $900 repair bill was still owed on the Duesenberg, Robinson's widow sold the aging car to actor, singer, and nightclub entertainer Phil Regan.
An interesting character in his own right, Mr. Regan was known as "New York's singing cop," due to the fact that a radio producer discovered the singer while he was working as a detective for the NYPD. Shortly after purchasing the Duesenberg, Regan relocated to Pasadena and restyled the Berline with popular custom features of the day.
Regan keep the car until 1951, when it first passed into the hands of collectors and it was first restored between the years of 1966 and 1970. The car has since been carefully preserved and very well cared for.
The Duesenberg after being restyled by Bohman & Schwartz Coach Builders and Bill "Bojangles" Robinson (below).
To learn more about this Duesenberg and the fine other cars in the sale, you can follow this link to the Gooding & Company Amelia Island Auction Catalog.
All images and words ©2013 and courtesy of Gooding & Company. Photos by Mike Maez.