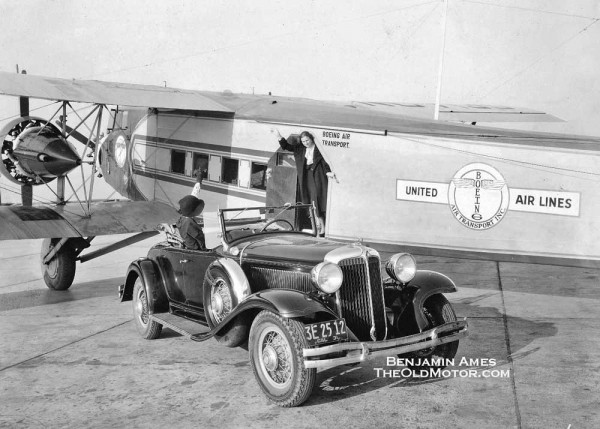 The automobile and the airplane both came of age at the same time and by the early 1930s, both had come to be reliable forms on transportation. We believe that this photo, which shows both, was taken as a promotion for United Air Lines who along with Pan American and Western Air Express were some of the first commercial passenger carriers in the country.
We do not have much of any aircraft knowledge, so the Boeing airplane we are going to leave to our aircraft minded readers to identify. The Chrysler appears to be one of the two 1931-32 6-cylinder models the maker sold at the time. Chrysler was founded by Walter Chrysler during 1925, when the Maxwell Motor Company was re-organized into the Chrysler Corporation. The Chrysler came on the market after Walter Chrysler who was at the Maxwell Motor Company for a time, introduced the advanced and well-engineered six-cylinder car bearing his own name. The Maxwell was built for the last time during the 1925 model year. More can be learned at www.chryslerclub.org
The photo is courtesy of the Benjamin Ames collection (scroll down).