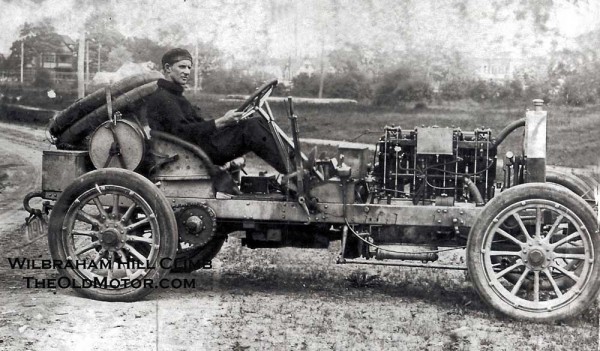 The Town of Wilbraham, Massachusetts, is celebrating its 250th anniversary this summer and as part of the events planned, one will be a re-enactment of the 1908 Monson Road Hill Climb. Wilbraham is situated just east of the City of Springfield, MA, an early automobile center, where both the Knox and the Indian Motorcycle were manufactured. Just north of the city the Stevens-Duryea was built at Chicopee Falls, MA.
In the town is Wilbraham Mountain and the Monson Road passes over it on its way to the neighboring town of Munson. On the steep one-mile climb up the Mountain, the Springfield Auto Club sponsored a hill climb on September 11, 1908.
Stevens-Duryea, Knox, Buick sent their teams and of the Knox racing cars seen here, the the cars in the (top and left hand photos above) took part. Buick sent its expert driver Bob Burman. The drivers had four days to practice on the steep climb before the main event was held.
The event attracted national attention and (above) is full coverage of the event, that appeared in Automobile Topics magazine issues, August 22, 1908, left and September 19, 1908, right, which cover all of the interesting details of the event, where the Stevens-Duryea (scroll down) took took the most class wins, which totaled seven.
The event will be re-enacted on July 13th 2013 from 7 am- 5 pm on Monson Road and Main St. in Wilbraham. Details can be found on the Wilbraham Hill Climb Facebook page. At the Town of Wilbraham website and at the VSCCA who is running the hill climb event.