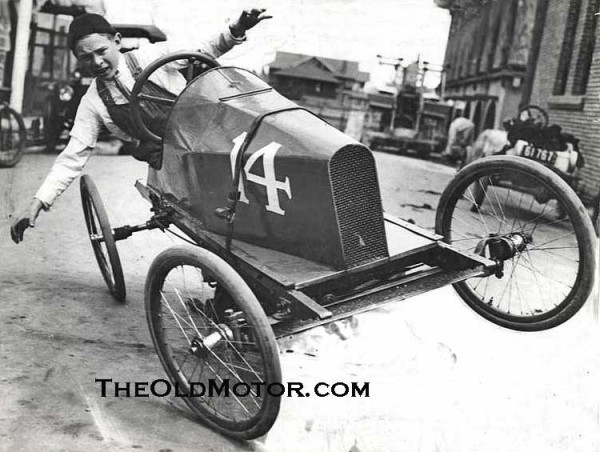 This batch of photos shows some of a group of small racing cars that were run on the West Coast, in the mid-teens in a series. The name of the organization that sanctioned this racing was called  "The Junior Racing Series of America" and the cars ran at various different tracks on the west coast including at Ascot, in San Francisco at the 1915 Vanderbilt races (called the "Baby Vanderbilt") and also in Tacoma, WA.
The series served as a training ground to a few drivers who then went on to very sucessful careers. Many of the cars were powered v-twin motorcycle engines. The staged photo (above) is of an unidentified car and driver in California.
The photo on the left (above) is courtesy of Walter Gosden and came with the caption: "Percy McFadden in a baby Stutz: Ascot Park, L.A." This car appears to be a twin to another Stutz, that you can see photos of  here on The Old Motor, which were also taken at Ascot and in another location.  The photo on the right (above) is from California and unidentified.
The photo (below) is one of our favorites and shows a very interesting under-slung machine with belt drive, it was also taken California and is unidentified. If any of our readers can ID any of these cars or drivers, or has more photos of these little pint-sized cars please let us know.
You can also see Harry Hartz in another photo of here on The Old Motor in his Baby Mercer and read an article about this racing, which was in The Horseless Age Magazine in 1915.