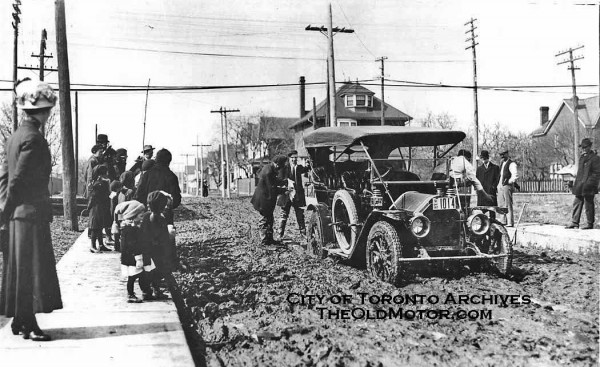 It is that time of year here in northern New England, when the maple sap is flowing and all of the maple sugar houses in the neighborhood are in full production boiling down the sap into maple syrup and candy. At the very same time we experience what is called "Mud Season", when all of our dirt roads thaw out and turn to mud as seen here.
This used to be common most everywhere, before roads were improved and this pair of photos from Toronto show us muddy streets in that city. The photo at the (top) is dated 1912 and shows us Morley Ave., with a full crew of on lookers watching a car which appears to be stuck in the mud.
The photo (below) shows a Toronto Star staff car, with Art Wells on the left from the Star, helping workers to extricate it. The photo is circa 1935 and the location was between Blood St. and Lakeshore in Toronto.
We are going to let our readers have the fun of identifying both of these cars for us, in photos that are courtesy of the City of Toronto Archives.