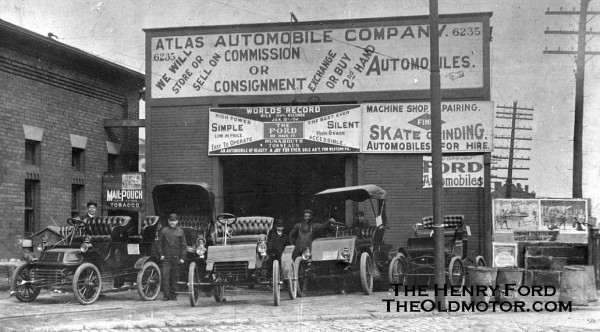 The Atlas Automobile Company, seen in this circa 1904 photo, was an early dealer for Henry Ford in Pittsburgh, Pennsylvania. The car that is closest to the curb in the center is a Ford Model A Runabout, which is described in glowing terms in the "The Ford" sign just above the garage door.
The other cars in the photo all appear to be earlier models that Atlas was trying to sell. In a quick survey of the five cars (left to right) we see an unknown, one that maybe an electric, the Ford, possibly a Winton and a steamer.
We have to wonder if this might have been the same company, also in Pittsburg that in 1906 and 1907 built the Atlas Automobile. That firm was located on on College Avenue, in the East End of Pittsburgh. Let us know if you can positively identify any of the cars in the photo, or the location. Many other interesting photos from  The Henry Ford, (scroll down) can also be seen here on The Old Motor.