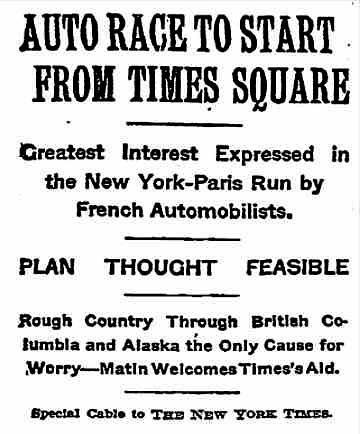 The Start of Something BIG!
By: Jeff Mahl
In early 1908 preparations were frantically being made in Europe with teams from Italy, France and Germany building automobiles that would carry them around the world. The effort equaled what we witnessed in our lifetimes preparing for a journey to the moon. Countries would meet head to head to prove their superior automotive technology, and regain the title of "Automotive World Champion" then held by the Italians with their recent victory in the '07 Peking to Paris Race.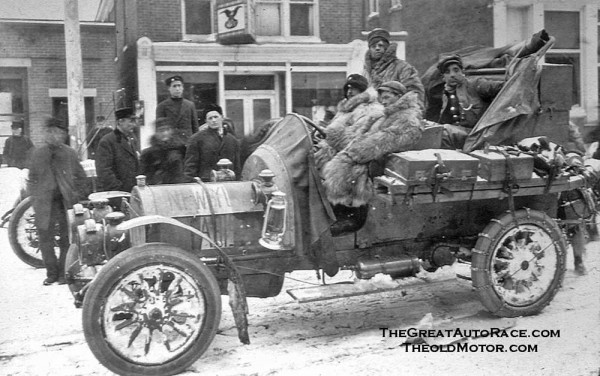 Italian 1908 Brixia-Zust Specifications:
                        Engine: 4-cylinder 40 HP / 4 Speed transmission
                                                   Speed: 60 mph
                               Weight: 3,500 pounds / 114" wheelbase
                            Fuel Capacity: 132 gallons in three reservoirs
Team members: Giulio Sirtori, 26; Henri Haaga, 22; Antonio Scarfoglio, 21
France would be represented by three teams in the competition.
Conspicuously absent from the fray were the Americans? Not surprising, as most in the world knew the vastly superior European machines would easily conquer any American builder foolish enough to challenge them. The level of confidence was not that much better on this side of the "Pond" with Henry Ford flatly refusing to enter such a competition. Even Ransom Olds knew it would be best to watch such an undertaking from the sidelines. After all, no automobile had ever crossed the United States in winter, and only a handful had successfully driven across the U.S. in summer months. In 1908 snowplows had not been invented, and neither had antifreeze. Why this was shear madness, none of the automobiles would get past Chicago on their way to Alaska much less on to Paris. The Buffalo News editorialized such a Race would be "…. a Homeric adventure outdoing all the wanderings of Ulysses, Aeneas and the Argonauts combined".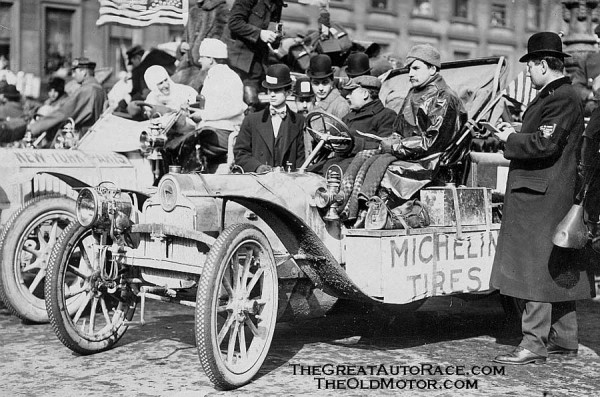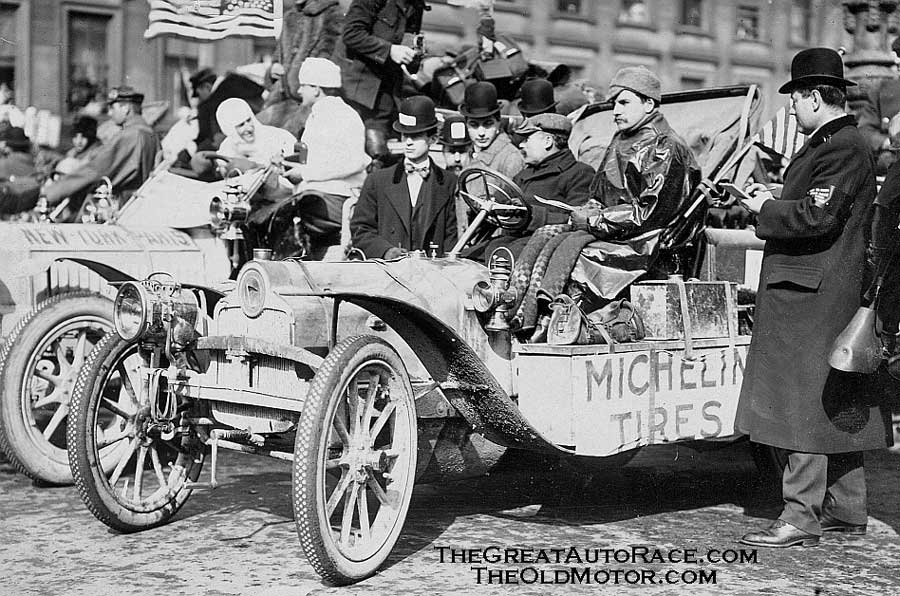 French 1908 Sizaire-Naudin Specifications:
                                                Engine: 1-cylinder 15 HP
                                                 Weight: 3,300 pounds
                                  Fuel Capacity: 40 gallons in three reservoirs
Team members: August Pons, 32; Maurice Berlhe, 24; Lucien Dechamps, 24
That was the problem! They MUST start in the dead of winter to accomplish their plan. You see, to drive from New York City all the way to Paris they would use the frozen Bering Strait as an ice-bridge across the Pacific Ocean. The "Ice Road Truckers" of today, wouldn't even consider such insanity. However, in 1908 these were men who saw no challenge too great, and there was always a way to accomplish what others thought "foolish". One of those men was President Teddy Roosevelt. Upon hearing that Italian, French and German motorists were going to race horseless carriages across the United States, the President didn't care which American manufacturer entered an automobile, but there would be a Team to represent the United States in that Race!
Click for the 1908 New York to Paris Race Route complete with stops and dates along the route.
As fate would have it, Teddy did know an automobile manufacturer by the name of Edwin Ross "E.R." Thomas in Buffalo, NY. He also knew of the Thomas automobile's solid reputation, as his cousin James Roosevelt in Hyde Park had purchased a "Flyer". James' son, Franklin D. Roosevelt even learned how to drive the Thomas while home from Harvard. If Ford or Olds would not take up the challenge, Teddy knew someone who would….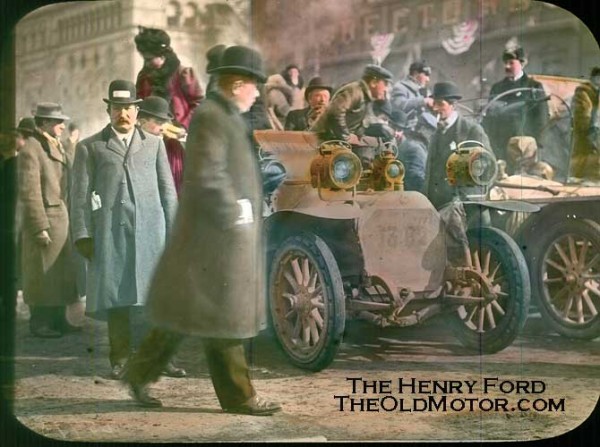 French 1908 Motobloc Specifications: 
                                            Engine: 4-cylinder 30 HP
                                               Weight: 6,437 pounds
                             Fuel Capacity: 86 gallons in four reservoirs
     Team members: Charles Godard, 31; Arthur Hue, 26; Maurice Livier, 19
E.R. was soon "encouraged" to enter a Thomas Flyer, just days before the February 12 start in New York City. Still reluctant about the chance of success, E.R. knew it would take his best people with proven talent to make a good showing.
For starting driver, 25 year old Montague Roberts would be the choice. From today's perspective, "Monty" might compare with someone like Jeff Gordon early in his career. An accomplished racing driver, young, charismatic and a bit of a "ladies man" who loved to tell stories with a good sense of humor. For mechanic, there was only one logical choice. It would be the factory Chief Troubleshooter George Schuster. Quite different from Monty, George was 35 years old, quiet and intensely focused on the mission (whatever it might be at the moment). As different as they were, each had a respect for the other from the start for they had proven their abilities to E.R. as well as others in the factory.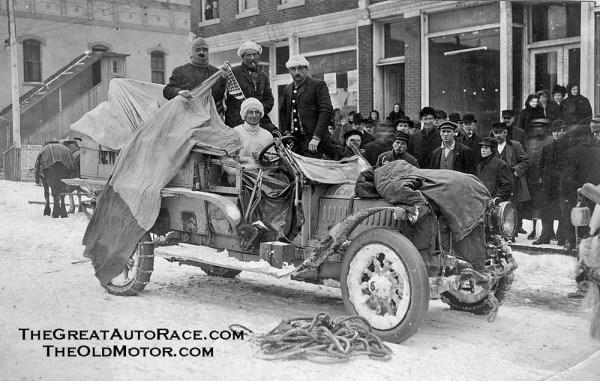 French 1908 DeDion-Bouton Specifications:
                            Engine: 4-cylinder 30 HP / 4 speed transmission
                                                       Speed: 50 mph
                                                Weight: 6,600 pounds
                                Fuel Capacity: 185 gallons in seven reservoirs
Team members: G. Bourcier de Saint Chaffray, 36; Alphonse Autran, 25; Hans Hendrik Hansen, 43
Monty and George had a brief discussion about the prospects for the New York to Paris Race shortly before the event. Still, at a time when no American auto manufacturer gave the thought for completion of such a race much chance of even making it across the US, the conversation was largely hypothetical. On February 8 just four days before the New York to Paris Race was to start, George stopped in New York City on his way to New England to demonstrate the new 1908 model to perspective buyers. Monty wanted to drive a Flyer in the Race, and asked if George would go along? With a simple reply George agreed "Sure, I will go as far as you will". It was half joking because just days earlier George heard E. R. exclaim "We will not enter. None of those cars will reach Chicago!" Little did Monty and George know the coming events would be the ultimate test of the two men, and in many respects far greater than that of the machine they would drive.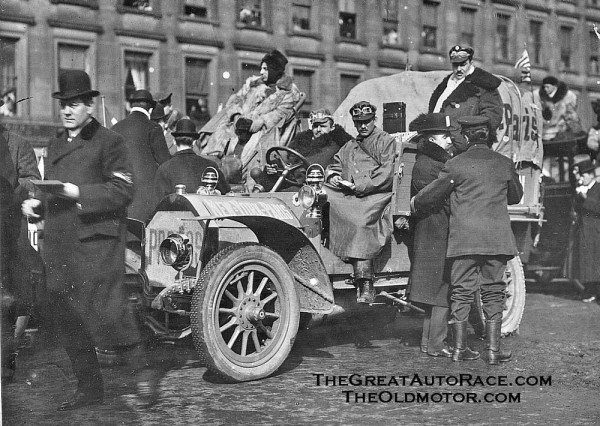 German 1908 Protos Specifications:
                                              Engine: 4-cylinder 40 Hp                                                     
                                                      Speed: 70 mph
                              Weight: 6,000 pounds / Length 16.0' Width 6.5'
                                Fuel Capacity: 211 gallons in six reservoirs
            Team members: Ernst Maas, 33; Hans Knape, 29; Hans Koeppen, 33
Just 3 days later, the scenario dramatically changed.  George was in Providence RI, and received a phone call from E.C. Morse, the Thomas sales manager.  "We are entering a car in the Paris Race.  Will you take the night train and be in New York tomorrow morning?  You will be the mechanic and Monty Roberts will be the driver.  He wants you, and says you are willing. Your salary will be doubled to fifty dollars a week."  Though George was coming down with a cold, and had a suitcase full of dirty laundry, his answer was a quick "OK, I will be there."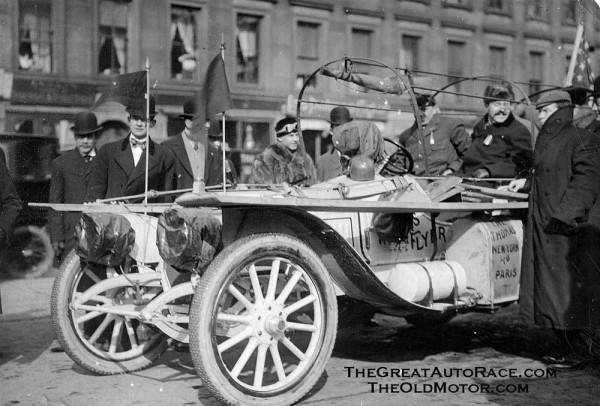 United States 1907 Thomas Flyer Model 35 Specifications: 
                     Engine: 4-cylinder 60 HP / 4 speed transmission
                                               Speed: 60 mph
                              Weight: 5,700 pounds / Length 11.7'
                       Fuel Capacity: 125 gallons in two reservoirs
Team members: George Schuster, 35; Montague Roberts, 24; George Miller 25; Harold Brinker, 21
Times Square was an appropriate starting point for an event the world media would use terms like "stupendous", "a Gallic dream" and "beginning of the end for European supremacy" in describing the unfolding adventure. 250,000 spectators jammed in to the Square to see the competitors with their marvels of automotive technology. The world super-powers were well represented.
Italy fielded the Zust, to defend her title as world champion earned just the year before in the Peking to Paris Race. For the young Italian team it would be a grand romantic adventure.
The start was to be far more elaborate than the simple waving of a green flag we would see today. This would be the Mayor of New York City firing a gold plated pistol into the air above Times Square. Something unthinkable in today's world…
As it turned out with a quarter of a million people crowding the Square, even with a police escort Mayor George B. McClellan could not reach the starting line. The honor of the start was then given to Colgate Hoyt, the President of the Automobile Club. At 11:15 AM he raised the gold pistol and fired the shot that began the Race Around the World!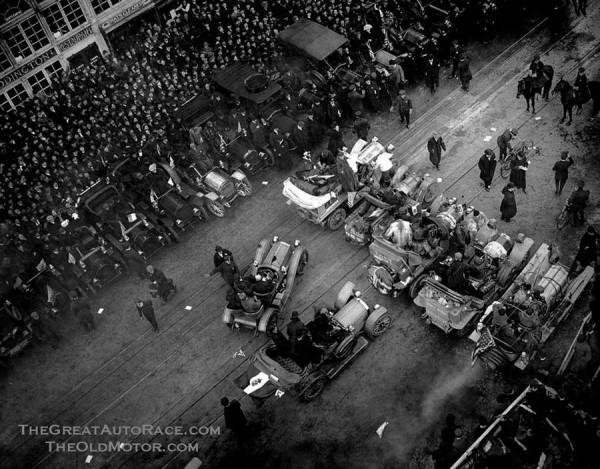 These machines represented the best of worldwide automotive technology, and the manufacturers with the courage to put their machines to such a grueling test. Defeat would be a marketing disaster; victory was the only option and would make the winner famous around the world.
Next stop, Paris 22,000 miles away!   Click to view Part 3.  Part 5 can be found here.
For more information, pictures, and video visit: www.TheGreatAutoRace.com
Copyright 2013 © Jeff Mahl – Great Grandson of George Schuster – All rights reserved