In the post WWII era, the pent up demand for new automobiles encouraged newcomers to the industry to dive in with both feet. Industrialist Henry J. Kaiser was one whose wartime production experience made him especially well suited to take on the challenge. He had revolutionized the building of cargo ships during the war by adopting mass  production methods to his "Liberty Ships". At one point, his crews finished one in four days and fifteen hours, a previously unheard of pace.
In 1945, Kaiser partnered with veteran automobile executive Joseph Frazer to establish a new company from the remnants of Graham-Paige, of which Frazer had been president. It would use a surplus defense plant at Willow Run, Michigan originally built for World War II aircraft production by Ford. Kaiser Motors would produce cars under the Kaiser and Frazer names until 1955.
Kaiser-Frazer Corporation's first car was launched for the 1947 model year, an example of which is seen here. They sold well in a basically unchanged design until 1949, when sales numbers began to drop off. They touted many "modern" features like welded all-steel construction, between the wheels seating, and a low center of gravity and sold very well in '47 and '48. But by 1949 sales numbers slipped. Perhaps the public's demand for anything with wheels and an engine had begun to slack off or maybe the new offerings that year from General Motors and Ford made the styling look old fashioned. Whatever the reason, the bloom was off the rose.
This modern looking, all glass, one car "showroom" (above) illustrates the innovative marketing methods used by the fledgling car company. This photo, taken in December of 1947, was one of of the first two-turntable showrooms (one inside, one on the roof), that were installed in the San Francisco Bay area. At that point, the company  was planning to use more of them around the country. You can read more about these interesting cars and the people who love them by visiting the Kaiser-Frazer Owners Club. Photo courtesy of Benjamin Ames (scroll down).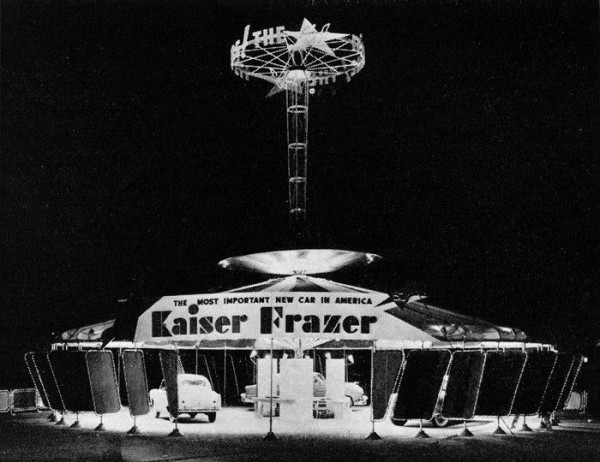 And finally, shown (above) is a similar 1954 Brooks Stevens-proposed Kaiser-Frazer pavilion with movable fins around the perimeter that directed cool air inside. The complete unit could be carried in a trailer truck, and erected within eight hours after arrival. The concept photo was found via Dan Strohl at Hemmings Daily.
Editors note: This post was written by Gene Herman, an automobile, truck and modeling enthusiast with many interests, who has come on board here to help us out with his writing and photography. We welcome him along with his knowledge and insight, which is especially strong in the post war era. You can take a look back at his earlier work here on The Old Motor.