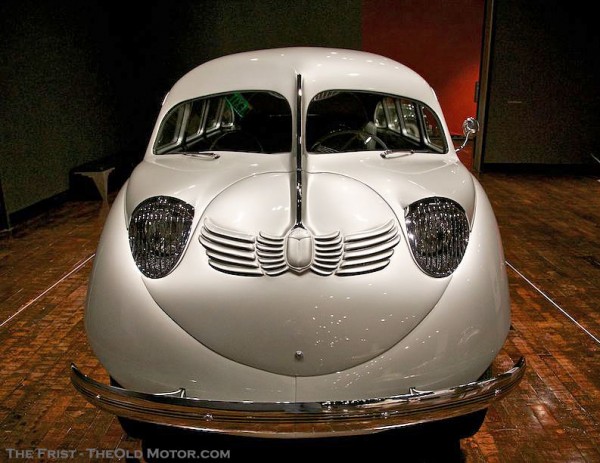 In our continuing coverage on Sensuous Steel – Art Deco Automobiles at the Frist Center for the Visual Arts, today we take a look at the The 1936 Stout Scarab in images courtesy of Bruce Sweetman and the history of the Scarab described as follows by the Frist Center:
"American aeronautical designer William Bushnell Stout modeled the sturdy Ford Tri-Motor in the 1920s after his own 3-AT aircraft. The futuristic Scarab (named for the Egyptian symbol based on a beetle) has a smooth and startling shape, with a tubular frame covered with aluminum panels surrounding a rear-mounted Ford flathead V-8. The Scarab's passenger compartment is positioned within the car's wheelbase. Access to the interior is through a central door on the right side, and there is a narrow front door on the left for the driver. This unusual configuration anticipated the first minivan.
The "turtle-shell" styling celebrated the Art Deco influence, beginning with decorative "moustaches" below the split windshield. It continues to be evident in the headlamps covered with thin grilles, and culminates in fan-shaped vertical fluting, framing the elegant cooling grilles. The Scarab's design was even more radically different than other cars of the era like the ill-fated Chrysler Airflow. At $5,000, it was very expensive, and the Depression-wracked buying public did not recognize its many advantages."
"Stout's investors, like William K. Wrigley, the chewing gum magnate, and Willard Dow of Dow Chemical, purchased Scarabs, as did tire company owner Harvey Firestone and Robert Stranahan of Champion Spark Plug. At least six cars were built; some sources say nine. Scarab number five was shipped to France for the editor of Le Temps, a Paris newspaper. In the early 1950s, this Scarab was offered for sale on a Parisian used car lot and returned to America at the time."
An interesting short video showing a car in action with William Stout.
You can learn more about the exhibit, Sensuous Steel – Art Deco Automobiles at the Frist Museum. Kurt Ernst has recently written a very interesting post covering both the Scarab and the fiberglass-bodied Project Y on Hemmings Daily. You can also see other  images and learn more about William Stout here on The Old Motor.