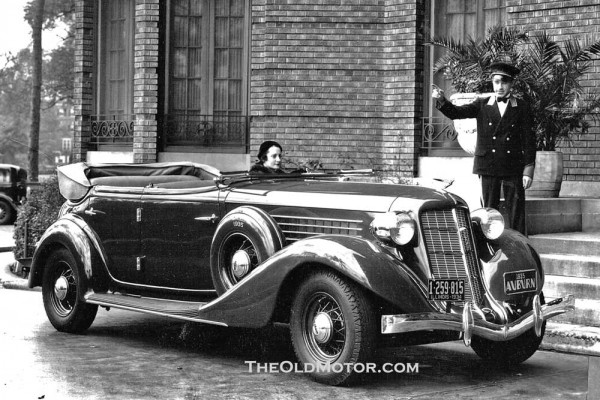 By Gene Herman:
While the Auburn 852 Speedsters have achieved iconic status amongst classic car enthusiasts, their less flashy brothers are seldom seen on showfields today. In 1935 and '36, this Indiana based manufacturer produced a full line of cars in six, eight and supercharged eight cylinder guise.
Seen above is a 1934 factory publicity photo of their handsome 1935 Phaeton. Although it shared the rakish good looks of the Speedster, this four door five-seater was meant to appeal to the buyer looking for a more practical car. But even offering four other distinctive body styles (a coupe, a brougham, a cabriolet and a four door sedan) could not this save this pioneer builder of quality automobiles from the ravages of the Great Depression. Although a 1937 product line was announced, the company closed it's doors forever that same year before any were produced.
Seen below is a video of an all-too-short period promotional film showing the sedan, the coupe and the Speedster in their natural habitat.
You can see many more posts and photos about Auburns here on  The Old Motor (scroll down) and to learn more you can also visit the  Auburn-Cord-Duesenberg Club. Photo courtesy of the Donald Ellis Collection.