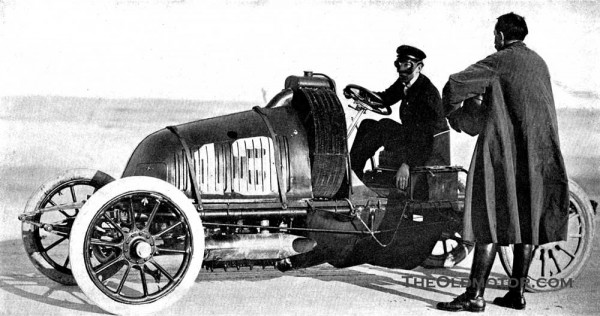 W. Gould Brokaw was a friendly rival of William K. Vanderbilt and other wealthy sportsmen who raced and participated in early track, road and power boat races in the pre-1910 period.
He is seen above at the 1905 Ormond Beach, Florida, race standing beside what most likely was his 1904 Renault 12.1 litre 80 h.p. Vanderbilt Cup racing car, which was driven by Maurice Bernin in both events. The car fell out of the 1904 Vanderbilt after suffering engine problems and finished 13th in a field of 18 racing cars.
It appears that it was repaired over the winter. The body work was stripped off and it was sent to Florida to compete at Ormond, where it was outclassed by a faster 90 h.p. Napier, a Dietrich, and a Mercedes in the event.
The photo above is the best copy we have ever seen showing this car. We have split it into two larger photos just above, so that you can study it's details. Take special note of the frame which was of lug and tube construction.
You can take a look back to many more photos, a film and press results here on The Old Motor, of the 1905 Ormond Beach Races (scroll down).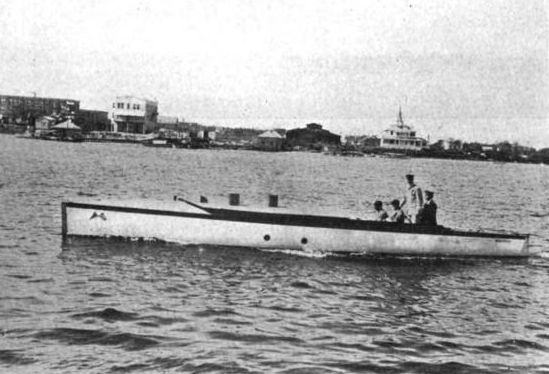 All was not lost for W. Gould Brokaw at Ormond however, as he was a member of the New York Yacht Club and had became a participant in the new sport called power boat racing. He had previously bought the Challenger from Smith and Mabley, who first manufactured the Simplex (scroll down). They were also at the forefront of boat racing at the time. Following the Ormond event, many of the racers packed up and headed down to Palm Beach for the boat races.
Frank Croker, who died at the wheel of his Simplex racing car the previous week on Ormond Beach, was to have piloted his new Smith and Mabley boat, the X. P. D. N. C., in the Florida boat races. W. Gould Brokaw's Challenger, went on to win the important contests in the Palm Beach boat races held the week after Ormond, when the Smith and Mabley entry was withdrawn. The press clippings (below) detail the event and report that the next stop for the "Speed Fest" was Havana, Cuba.
If any of our readers can help, we are always on the look out for unpublished and interesting Simplex car photos, and we would especially like to find photos of the Simplex power plants use in some of these early boats.
Learn all about W. Gould Brokaw in an article called Fast cars and beautiful women at Nirvana by David Traver Adolphus at Hemmings Daily.