In 1931, Model "A" sales in Great Britain were going rapidly downhill. Because of it's comparatively large displacement, buyers were taxed more heavily than those of smaller British built cars, causing potential customers to stay away from Ford agencies in droves. In a crash effort to regain lost market share, Edsel Ford commissioned Eugene T. "Bob" Gregorie, then an unknown Lincoln stylist, to design a new, much smaller car. The resultant 1932 Ford Model "Y" was a smashing success.
Our domestic 1933 Model 40, surely one of the best looking American cars of the era at any price, came to be as the direct result of the English car's stellar sales record. Upscaling the diminutive Model "Y" design for the U.S. fell to Clare Kramer, whose full sized drawing was quickly approved by Gregorie and Ford management. Chevrolet sales had been topping Ford since 1931, and the radical restyling of the Dearborn product so soon after the introduction of the revolutionary '32 V-8 was no doubt an attempt to regain the lead, a goal that would be reached in 1934. Seen above is an example of that year's production, aptly demonstrating both the rigidity of it's frame and body and the flexibility of it's transverse leaf spring suspension.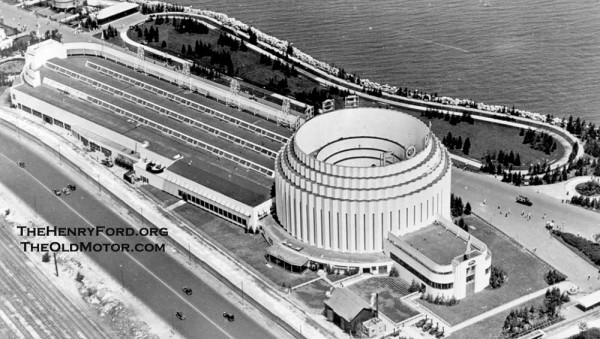 The Century of Progress International Exposition opened in Chicago in 1933. Built on 427 acres on the shores of Lake Michigan, it provided a welcome opportunity for Depression weary Americans to have a look at what a brighter future might have in store for them. It was a lavish extravaganza of Streamline Moderne structures and re-creations of historic buildings combined with amusements and side shows that rivaled any circus of the time. National exhibits from countries all over the world were joined by those celebrating the scientific and technological wonders of the age.
Of course, GM, Chrysler and Ford each put it's best foot forward. The 11-acre Ford Motor Company exhibit (above) became the most talked-about exhibit at the Expo, featuring a central Rotunda designed to simulate a graduated gear cluster . Originally, the fair was scheduled only to run until November 12, 1933, but it was so successful that it re-opened on May 26, 1934 and ran until October 31. Look for more on the Expo, including a video, in a future post.
Shown below is an incredibly complex cutaway of another Model 40 on display at the Ford exhibit there, this one sliced right down the middle to show every detail of it's construction.
Photos courtesy of  The Henry Ford Museum. Many other interesting photos from The Henry Ford, (scroll down) can also be seen here on The Old Motor. You can also visit with the Early Ford V-8 Club of America, that celebrates all flathead V-8 powered Ford products. They are one of the oldest car clubs in the country, currently celebrating their 50th anniversary.