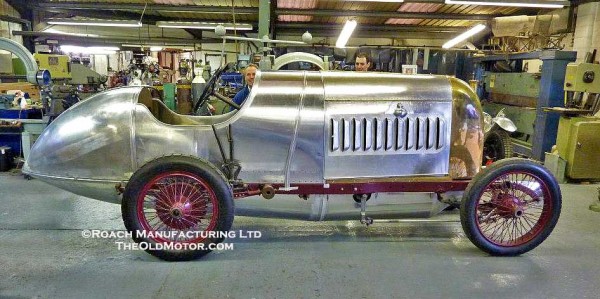 We have been enviously following the progress that Duncan Pittaway has been making on his S.76 Fiat racing car with a 1729 c.i. four-cylinder engine for some time now. In out last discussion with Pittaway he mentioned: "I have taken it to Stuart and Keith Roach's for them to finish the detailing on the bodywork. It's very important for me that I do as much of the work as possible, but there's no substitute for years of skill and training when it comes to finishing off all the finer details of the body.
They've done a beautiful job of wiring the edge of the cockpit and it'll be back to them in the New Year to finish the bonnet and under-trays. After that… it's all plain sailing toward firing it up in time for a centenary re-run of Duray's record breaking run at Ostende in 1913…. After all…I've only got to do 140mph in two directions within the hour down the same bit of sea front to set the record straight!!!"
As we can see in these photos, the body work has all been finished up in the Roach work shop in fine style, and the results as you can see are out-standing. The firm of expert coach builders, is located in England, just west of Southampton in Ower.
Now it is time for Duncan Pitaway to get the car back to his shop and finish things up. Hopefully he can reach his goal of getting it ready to run in a reenactment of Arthur Duray's run at Ostend (on the coast of Belgium) in December of 1913. A century ago the car recorded a one-way kilometer at 132.27 m.p.h., faster than Barney Oldfield's existing figure of 131.72 m.p.h. in the Blitzen Benz.
You can take a look back on all of the earlier posts on S76. Fiat racing car here (scroll down) on The Old Motor. And do take the time to visit with  Roach Manufacturing Ltd, to see some of the amazing projects that they have worked on for over 50 years and three generations. For a look back at another incredible Fiat record car, take a few minutes and learn all about Mephistopheles, and while there, be sure to watch an excellent film of the car in action, done by the newspaper, The Telegraph. Photos courtesy of Roach Manufacturing Ltd.