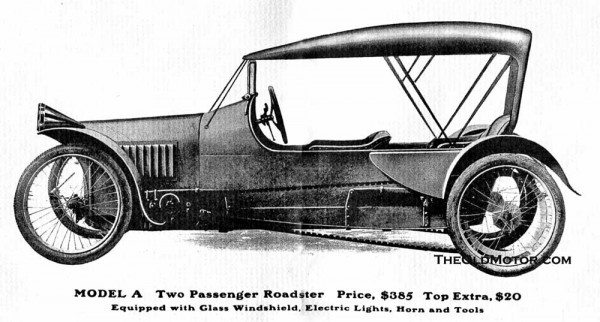 A little over a month ago we did a post called: The Monarch Motorcycle and its Cousin the O-WE-GO Cycle car. Information and photos or illustrations are hard to come by on the short-lived cycle car and reader Tom Jakeway came through for us by sending us a sales catalog from the company.
We can now see all three body styles offered with the O-WE-GO, along with an interesting overhead illustration of a Two Passenger Roadster in the center (below). The battery-powered electric lamps seen on the front fenders, are a copy of those another New York State machine, the Pierce-Arrow.
Just below is is an illustration showing a side view of the power plant and and drive system, which utilized a friction drive with "innumerable forward speeds and one reverse".  The cooling fan can be seen at the front, and at the rear of the v-twin engine is the Atwater-Kent distributor with the ignition coil mounted further back on the firewall.
You can look back to the first post here on The Old Motor and learn more from two articles in The Automobile Magazine about the O-WE-GO, both dated 1914. You can also look back on many interesting photos and information from Tom Jakeway (scroll down).