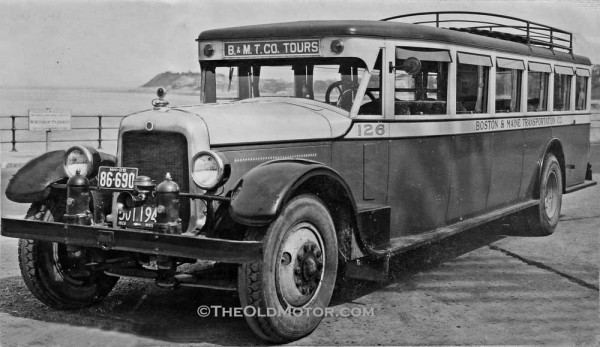 The Boston & Maine Transportation Company tour bus, seen here at some point during 1928, is posing on The Winthrop Parkway in Revere, MA. The maker of the bus is a mystery to us that hopefully our readers can clear up. It appears that this bus line may have been a branch of the Boston & Maine Railroad Company, as many early bus lines were part of a rail operation.
The Winthrop Parkway, abutting the coast, is historic in itself, having been built in 1909 as a connector between Winthrop Shore Drive in the south and Revere Beach Parkway and Revere Beach Boulevard in the north. Revere Beach is just north of the city of Boston, Massachusetts and has been a get away location for people living in the area for over a 100 years. You can learn all about the history of  Revere Beach here, which was first served by the narrow gauge Revere Beach and Lynn Railroad in the late 1890's .
The photo below by Leon H. Abdalian, dated July 7, 1920, is courtesy of Wiki. It shows the Derby Racer roller coaster with its dual tracks and cars next to Revere Beach. Photo at the top courtesy of the Jerry Lettieri collection. The Boston & Maine Railroad Historical Society can tell you more about that New England carrier.