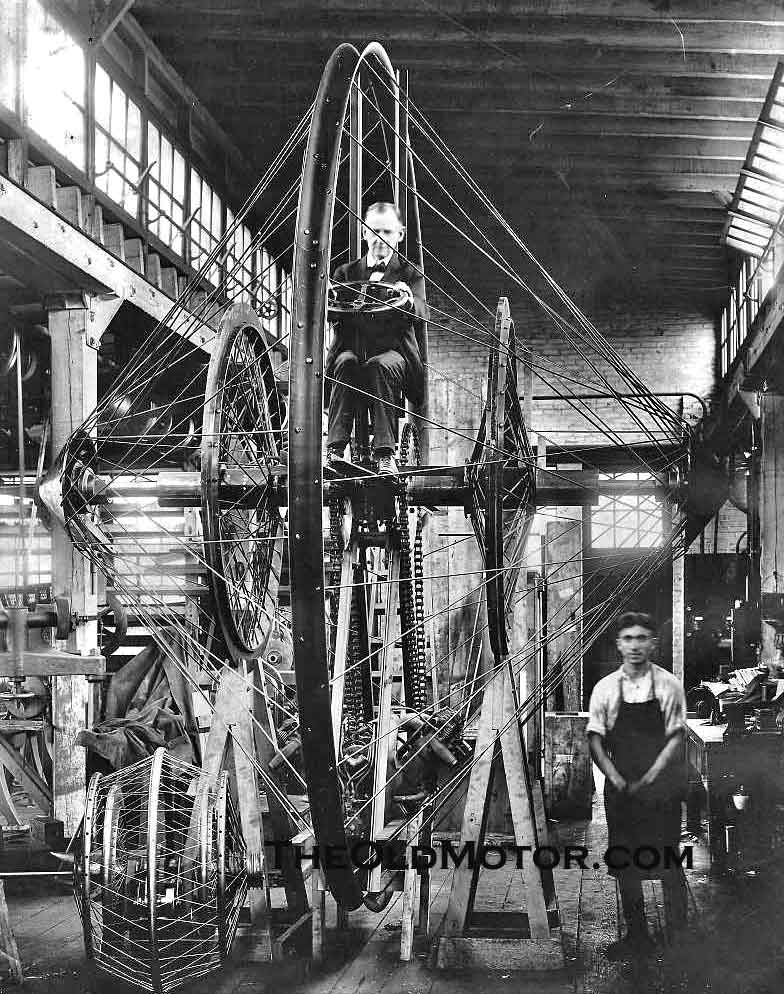 *Update* Mark Walker of the UK has identified the engine in E. J. Christie's machine. He has sent us photos and they do seem to match. The following is what he found: "I think the motor is a 700 c.i. Sturtevant V-8 (very distinctive exhausts). The Sturtevant Model 5A was rated at 210 h.p. at 2250 r.p.m. and was capable of producing a maximum of 240 h.p. according to the entry in Aerosphere."
The idea of the mono-wheel, both powered and unpowered, has been around for a very long time. Documented examples popped up in the mid 19th century but few, if any, approach the monumental proportions of the one in this photo that we found floating around in cyberspace.
The product of the fertile imagination of a Professor E. J. Christie, this gyroscopic unicycle was supposedly capable of speeds of up to 400 miles per hour, although at the time of an article from the April, 1923 issue of Popular Science (above, center), it had yet to be tested. This monster was 14 feet tall, weighed 2,400 pounds and used what appears to us to be a Curtiss OX-5 airplane engine for power. If that's the case, the stated 250 horsepower rating was a gross exaggeration, perhaps only one of many. Theoretically, the machine could be turned by moving the two 500 pound gyroscopes on either side of the center wheel to the left or right along the axle by using the steering wheel.
Seen (below, left) is a patent drawing from Jan. 4, 1898, of a human powered unicycle that seem to indicate that Christie truly believed from very early on that his principles of gyroscopic stabilization and steering might have had a practical application. There is a good possibility that we can see the patent model for this unicycle on the left side of the top photo.
The center and right patent drawings (below), date from his Jan. 7, 1919 patent, that clearly shows, and describes many of the principals applied to his early 1920s machine. We are left to forever wonder if his concepts would have ever worked in the real world.
We at The Old Motor also wonder if Professor Christie is related to the much better known and more successful John Walter Christie, the engineer and prolific inventor of very early front wheel drive race cars and later tank suspension systems. We have been unable to establish any connection between the two and invite our readers to chime in with any information that you may have on the subject.