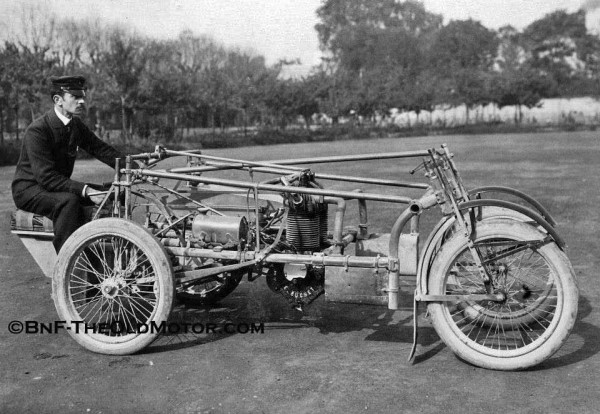 This has to be one of the most unique early French racing vehicles ever produced. From what little information we can translate and piece together, it is a 1901 Truffault,  powered by a 7 horsepower Buchet engine. It has been reported that the machine finished second in a road race that originated in Turin, Italy and passed through Pinerolo, Saluzzo, Cuneo, Racconigi, and finally returned to Turin.
Just below are three ads from the French engine company that Elijah Buchet operated before the firm turned to producing complete cars around 1910. It appears that his engines were quite a success, being both powerful and reliable, and seemed to be one of the engines of choice for early motorcycle, trike and quadricycle racers in Europe.
This wild looking machine was steered with a very long tiller which actuated the the two unsprung front wheels and were connected by a tie rod. Behind this can be seen the Buchet twin cylinder air-cooled engine with automatic exhaust valves. It is unclear, but it may have used atmospheric intake valves. Power transmission appears to have been by a wide leather belt, similar to many motorcycles of the time. Photos courtesy of Gallica BnF , ads courtesy of  Motos do século XX. Thanks to our French connection Isabelle Bracquemond.