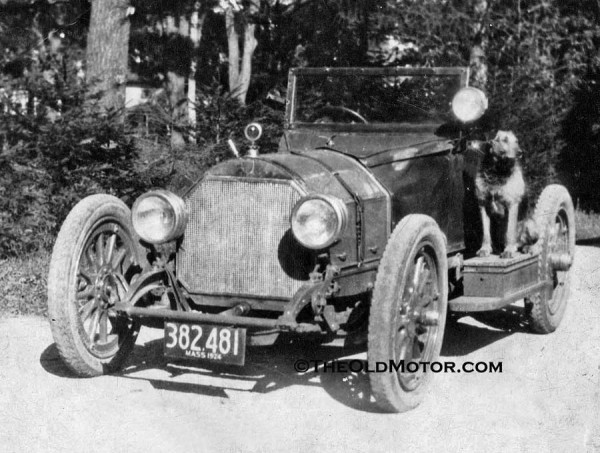 Recently we featured a 1915 Mercer L-Head Raceabout and today we have a photo of one the last of the famous T-Head Mercer Raceabouts that were produced in 1914. George F. Schulz, who lived in Dedham, MA at the time owned the car. His grandson, Brendan Harrington, shared both photos with us, and tells us that his grandfather liked fast cars and women and spent his life in the pursuit of both. Some twenty years later, Schulz was still at it and he, along with other like-minded friends, founded the SCCA.
At the time of this photo(1924), the car was ten years old and had been the subject of a number of updates and changes common on Raceabouts.  The fenders had been taken off and it had been fitted with a windshield and a canvas covered cowl along an extra lamp for fast night driving. They are very pleasurable cars to drive, but at 40 miles per hour and above, the hurricane like wind one is subjected to without a windshield soon becomes very tiring. Many others were equipped with similar wind protection for just that reason.
Check out this interesting photo of an attractive woman behind the wheel of another Raceabout so equipped. You can also learn all about the Mercer here on The Old Motor (scroll down).