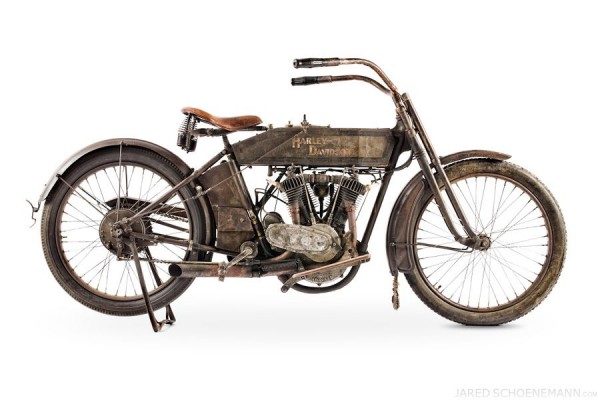 William S. Harley and Arthur Davidson built the first Harley-Davidson single-cylinder model in 1903 and by the fall of 1904 three machines had been produced and sold. The well made machine soon gained and excellent reputation and by 19o7 sales were up to 153 for the year.
In 1909 the first 61 c.i. v-twin was introduced and by 1912 the firm was offering an optional all-chain drive which replaced the earlier leather flat belts. By 1914, the year our feature bike was built, the company had added a successful two-speed transmission, which was located in the rear hub assembly. It was a good year for H-D and a reported 7,956 H-D machines were produced.
What we are viewing here is one of the few that has survived to this day, proudly wearing it's original paint and lettering. Good original paint early bikes are quite rare and have always been highly valued by motorcycle collectors. This example has had a successful touring history over the last thirty years of completing many pre-16 rides that are popular with early motorcycle enthusiasts.
A special thanks to Jared Schoenemann Photography, of South Pasadena, CA, for sharing his work with us of this quite special machine. And thanks also go out  to Tim Graber of Classic Motorcycle Consignments, located in Costa Mesa, CA, for sharing with us this bike that he has handled in the recent past.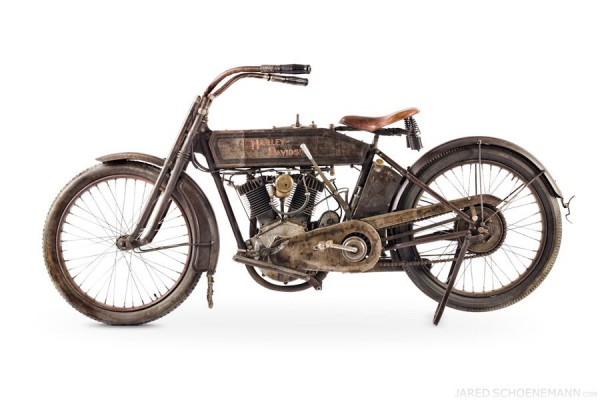 Photos and an advertisement (below) all from 1914, show two of the machines back in the day. The left hand photo shows the new two-speed transmission being but to good use; the popularity of sidecars made a single-speed impractical as the final drive ratio needed to be lowered for the extra weight, but it severely limited the top speed. On the right hand side can be seen the single-cylinder model also offered for 1914.