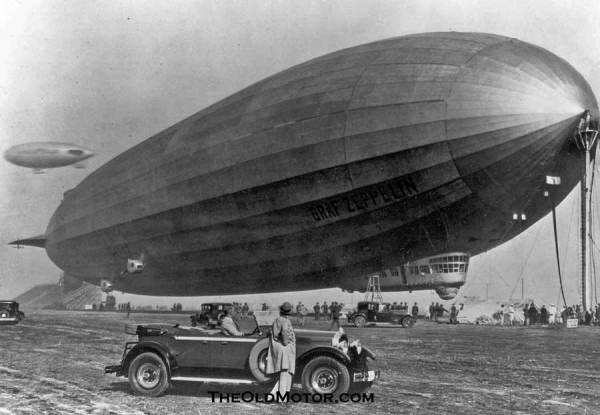 Automobiles and airships make a perfect combination as you usually drove one to get to the other and they both provide human interest. A 1929 Packard Phaeton is seen in the above photo with the famous Graf Zeppelin, in what appears to be a Packard advertising photo. Right up near the the Graf can be seen a Packard Club sedan and to the left another Packard appears to be driving away.
The center photo (above) shows an engine of the type used to power the mighty Graf. The craft's five Maybach VL-2 12-cylinder 550 horsepower engines could burn either  gasoline or Blau gas, an artificial illuminating gas similar to propane. 
Press photos (above)  of the Graf  Zeppelin were taken in Germany when it was new and being tested during six domestic shake-down flights.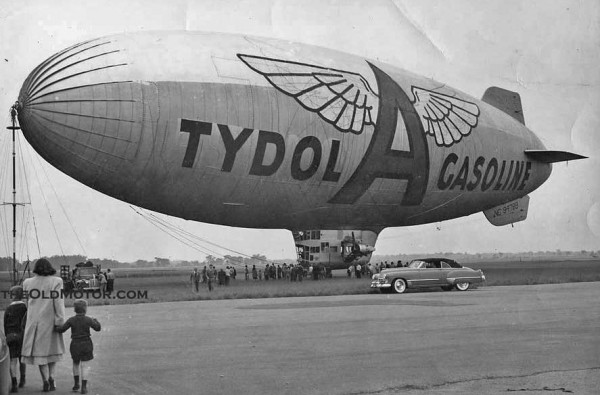 Twenty years later, the great ocean hopping Zeppelins were history, but their little brother blimps were being used for observation and short commercial flights. Their slow airspeed also made them very popular for use as flying billboards. The Tydol Gasoline emblazoned airship above was being used for promotional purposes circa 1949. The Cadillac convertible parked near it appears to be a 1949 model as well.
To learn more about the Graf Zeppelin and other German and U.S. Navy airships, visit Airships, one of the best online resources about them. Graf Zeppelin control room photo and all other photos courtesy of Imagerie Mécanique's Facebook page. You can also see an excellent BBC film of the famous 1929 Graf Zeppelin around the world flight here on The Old Motor.