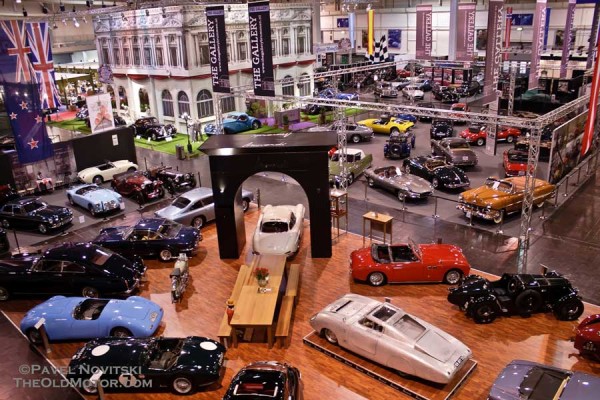 Today we have coverage of another great European show from our young friend Pavel Novitski from London, England. You might recall seeing some of his earlier work here on The Old Motor (scroll down) of  both the 2012 Windsor Castle Show and Regent Street Motorshow. This time our intrepid correspondent traveled to Essen, Germany to cover Techno-Classica, the next big show of the year over there after Retromobile.
Said by it's organizers to be the largest event of it's kind in the world, it's unlike any indoor show seen in this country. Exhibits include not only cars from private museums, but from manufacturer's historic collections as well, 25 of which contributed this year, the 25th anniversary of the event. Dealers in antiques and classics also occupy floor space cheek by jowl with the others.
Last year's show attracted something like 180,000 spectators over the five day run. They were treated to an incredibly diverse group of automobiles. A small sampling of the magnificent and significant prewar cars on exhibit this year can be seen in Pavel's accompanying photographs (below). Excellent examples of Bentleys, Bugattis, Delages, Mercedes' and Talbots were amongst the hundreds on display, including many from the great collections of the Louwman Museum in the Netherlands and the Mullin Automotive Museum  in California. You can read more about the Techno-Classica here and also see more of Pavel Novitski's work at PavelNovitski.com.