To us at The Old Motor, nothing evokes the golden age of antique and classic car building more than the work of the great American coachbuilders. The application of an entire custom body to an existing chassis has become a relic of another age, dictated by the rise of unit body construction in the last sixty or seventy years.
Here we have an impressive First Series Packard Eight, a 1924 Model 143 that was probably an early car built in 1923. Both the yoked drum headlights and the massive disc wheels, similar to those used on the previous Twin Six, mark it as being a First Series car,  according to several Packard experts. The company no doubt wanted to use up available on hand stock before changing over to to the new style of disc wheel which carried a 35″ x 5″ tire.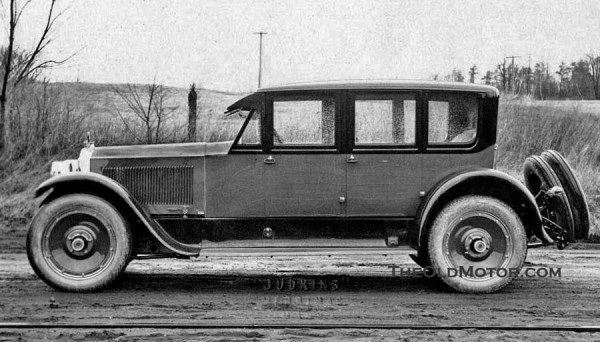 It sports a very handsome Cabriolet Sedan body built by the J.R. Judkins Company of  Merrimac, Massachusetts, one of the most prolific and very best known names in the field. Distinguishing features include a foreshortened body, radically (for it's time) raked windshield, huge sun visor and dual rear spares. Extra nickel plating can also be seen on the headlight forks, center rim flanges and possibly the tire rims, as well. These additional touches may indicate that it was either ordered this way by a customer or it was a Packard of Judkins show or promotional car.
Note the Massachusetts dealer (or manufacturer) plate in the top photo and the embossed "Judkins" lettering in the shadow under the car in both shots. We believe that this identifies these images as originating at the Judkins factory. Photos courtesy of Jerry Lettieri.
Automotive Industries magazine did a large spread on the Packard with it's new Eight-in-Line engine in the June 14, 1923 issue. Full details can be found (above) covering both the new 357.94 cubic inch engine and four wheel brakes. Note the differences between the standard body styles shown and the custom Judkins creation pictured above.
A very detailed cutaway drawing of the new, nine main bearing, L-head straight eight can be seen (below).