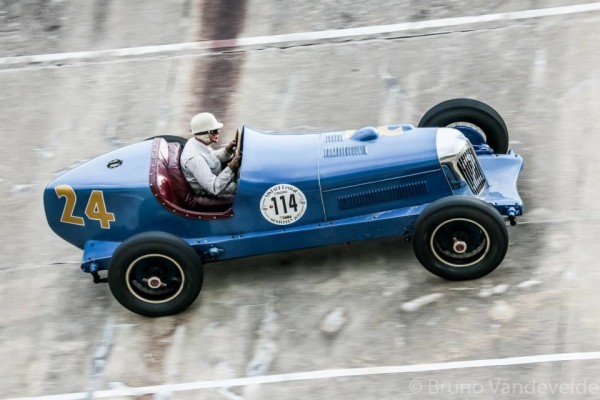 One of the largest international events in the world for pre-war vehicles took place over the weekend of April 20-21, 2013 at historic L'autodrome de Linas-Montlhéry near Paris, France. Like Brooklands in the U.K. which preceded it and it's contemporary, Monza in Italy, the high banks of the Montlhéry oval have attracted seekers of speed from it's inception in 1924.
The course was a natural choice for many long distance endurance record attempts, notably a 126.44 mile per hour average pace for 200 miles set by John Cobb in his mighty 24 liter Napier-Railton in 1933 and a 100.5 miles per hour for 24 hours mark set on a Velocette Venom in 1961. The restored Napier-Railton made a memorable appearance at the 2011 edition of the Vintage Revival.
Requisitioned by the French government in 1939, the track deteriorated badly during World War II but reverted to private ownership again in 1946, when racing resumed there after extensive repairs were made. After closing temporarily in 1973, it has since been used as a high speed test facility by various automobile manufacturers and in 2011 became the location for the first edition of the current Vintage Revival.
Vincent Chamont, the organizer of this event, makes a point to include two, three and four wheeled vehicles, virtually guaranteeing that a large number of unusual and rare machines will attend, a small portion of which can be seen in Bruno Vandevelde's excellent photos (above and below).