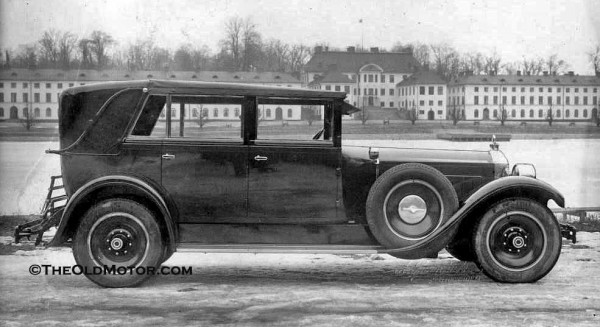 Before the debut of the first Volvo in 1927, Swedish car buyers were entirely dependent on imports. While they often chose European automobiles, a surprising number of American built cars found their way into their garages. Case in point is this big 1928 Packard 443 convertible sedan with a rarely seen custom body by Norrmalms of Stockholm. Along with the unusual "C" pillar configuration, this car displays the old style drum headlights that would disappear in the succeeding year. A significant number of Swedes preferred U.S. built cars and dealers would continue to import a relatively large percentage of them both before and after World War II.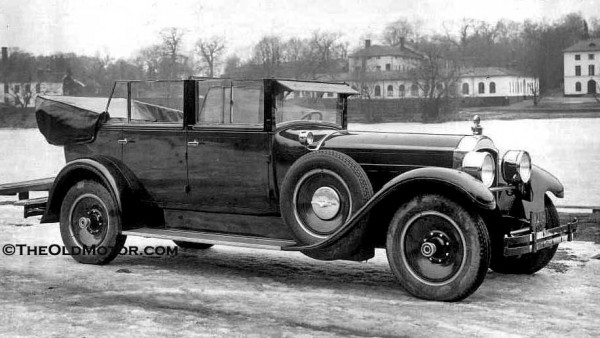 While not related directly to Packard's Scandanavian marketing, the article from the September 10, 1927 issue of Automotive Industries seen below describes in great detail some of the mechanical features of the 1928 Packard and relates them to their aircraft engines. As you may know, Packard supplied many excellent powerplants for airplanes in the period immediately preceding and during World War I and this article seeks to capitalize on that reputation.
Photos (above) courtesy of Jerry Lettieri. The same images can be found in Hugo Pfau's book, "The Coachbuilt Packard", who identified the coach builder. A reference to a book about Swedish coachbuilt Packards can be found here.
Of interest and also published during 1927 is an article (below) all about the very impressive Packard 2775 cubic inch, 1200 horsepower X-24 aircraft engine as shown in the October 8, 1927 issue of Automotive Industries. In it you can see the features of the unique power plant, with its very unusual multiple valve spring configuration. The angled arrangement of the seven springs was said to facilitate valve rotation and the earlier article (above) references this design when discussing the car's dual spring arrangement .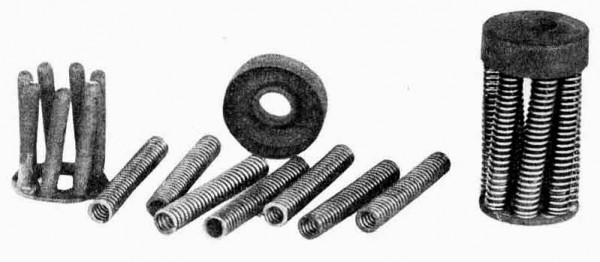 The unique seven spring angled assembly for each valve of the X-24 engine.
Surplus engines (most notably the Liberty V-12 as seen below) could be had for a song at the end of The Great War and in the late teens and early 1920′s found their way into what were the fastest boats in the world at the time. Such famous craft as the Miss Detroit III (winner of the 1918 and 1919 Gold Cup races at Detroit) and Miss Detroit IV, Gar Wood's famous Gar Junior, Baby Gar, Miss America and Miss America II employed these mighty motors.
The Packard 4M-2500 engine, used in U.S. Navy PT boats during World War II, was based on the 1925 Liberty aircraft engine as well, once again proving the quality of that initial design so very many years later.