Most of you are probably familiar with the Crosley and King Midget mini-cars that enjoyed a brief period of popularity in this country following World War II, but cycle cars  and "baby" cars, have been around since the very beginning of the Automobile Age. Voiturettes enjoyed a racing class of their own in Europe both before and after the First War, and proved popular as economical road transportation as well. Photo (above) appears to have been shot at a bicycle racing track that was in France.
The first two cars pictured here today fall more into the category of novelties, although they appear to be very finely crafted. According to writer Robert Cunningham the two might be the work of  "Bird Boy" Art Smith, a pioneer aviator who contracted with the Perkins and Magini motorcycle shop in San Francisco to build several dozen copies of his design. They specced out at less than 30 inches high at the cowl and rolled on a 60 inch wheelbase with a 40 inch track. With V-twin  motorcycle power, they were said to be capable of 60 miles per hour. Some earlier cars of the same type can be seen in these previous posts on The Old Motor  The latter features racing great Ralph De Palma posed behind the wheel of one. The photo (above) was taken in Boston by Leslie Jones and it was reported that the driver later died in a "Loop the Loop" accident in Maine.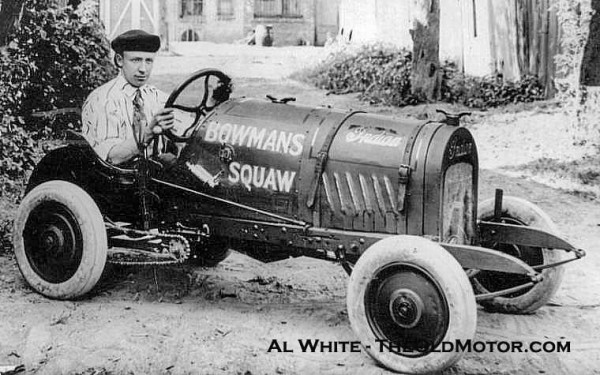 This last one was built by the future automotive writer and publisher Floyd Clymer in 1920. Driven by Hart Hueraine "Hal" Bowman (pictured behind the wheel) in 1920, it was the only car of it's type in the Midwest at the time and had to compete with the big cars on dirt ovals. Although the car's nickname might be viewed unfavorably today, with it's Indian V-twin power it beat the bigger cars as often as not and in fact once set a record of a thirty second lap on a half mile track.
This is the first of a series of articles about the American cyclecar and baby car phenomenon that we hope to present in the near future.
Top photo courtesy of the  National Library of France. Center photo courtesy of the Boston Public Library, Leslie Jones Collection. Leslie Jones Collection © Copyright Leslie Jones. Bottom photo courtesy Bob Lawrence.