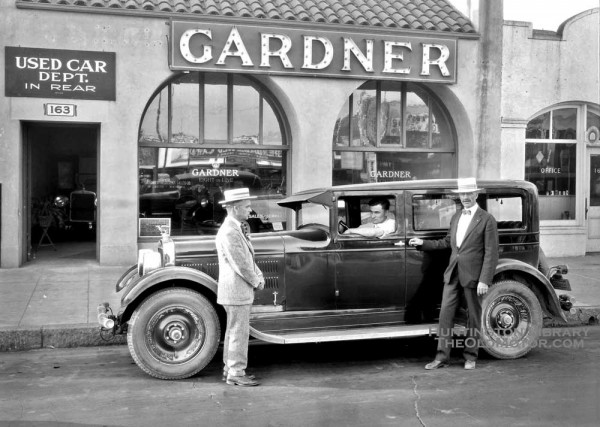 The Gardner Pasadena Sales Company was located at 163 West Colorado Blvd. in Pasadena, Calif. and is shown here in this 1927 photo. The Gardner company built a well regarded and conventional car in St. Louis, MO., starting in 1920 and as with many other makers, ceased operations in 1931 as the Great Depression settled in. The building has lasted much longer than Gardner and can be seen today with a changed front window and a different roofline.
Left to right (above); Specifications of the 1927 Models and a catalog illustration of the Model 80 Roadster, both courtesy of Gardner Motor Cars, and a Lycoming Motors advertisement showing the Gardner.
According to The Gardner Registry the early 1927 models were a carry over model from the previous year and were called a Model 80. The 80 was powered by a 70 h.p. 226 c.i. engine and had a wheel base of 122″. The firm also offered a Model 90 that was a larger 84 h.p. straight eight on a 130″ w.b. chassis. Photo courtesy of the Huntington Library.