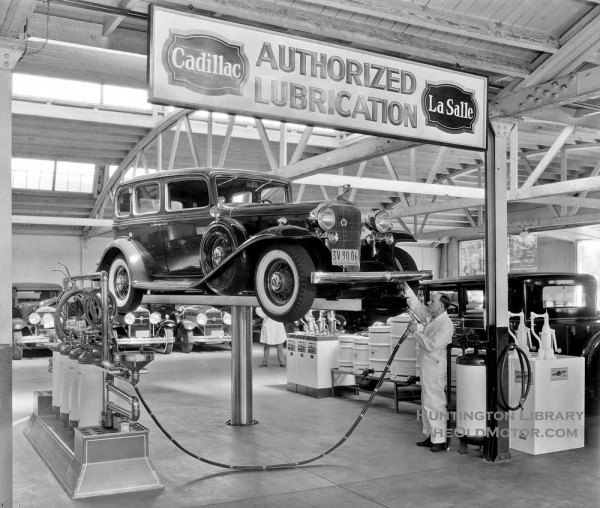 This 1932 photo shows us the service department interior along with its deluxe lube rack in the lubrication bay, at Don Lee Cadillac, which was located at 655 East Green Street in Pasadena, California. It was one of the most famous Cadillac dealers in the world at the time and, because of it's close proximity to Hollywood, was at the forefront of providing luxury cars in the area.
You can learn more about the operation, the custom bodies built by Don Lee under the direction of Harley Earl and about Tommy Lee, Don Lee's son and his road and racing cars here on The Old Motor (scroll down).
The lube station appears to be quite deluxe. Left to right (above) we see: the chassis grease dispenser along with the plated pull-out draining system and funnel, the V-12 Sedan on the latest in hydraulic lifts and the tank and controls for the lift, just behind the service man. Behind them are the various different types of oils used. Photo courtesy of the Huntington Library.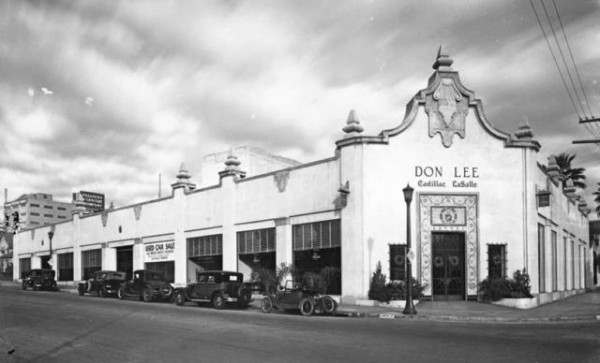 The showroom building appears to have survived. It is presently a florist and can be seen here. Photo above courtesy of Hometown Pasadena.