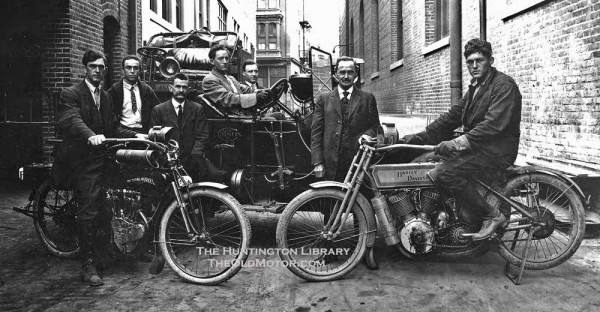 The hundredth anniversary of this photo made by Bishop G. Haven will soon be upon us. On June 6, 1913, the Night Gang of the Trouble Department of the Edison Electric Company took a moment to pose for the camera with their diverse group of service vehicles. In the background we see a rare Alco truck,  and a Pope-Hartford equipped with a large spotlight. The two motorcycles out front are a Flying Merkel on the left with a Harley-Davidson on the right. We suspect that the big spotlight was used to locate problems in overhead wires and leads us to think that the Pope may have been equipped with an electric starter and a generator.
Also visible at the extreme left in the first thumbnail (above) is a ladder mounted on the back of the Pope. The rear of the body of the car may have been removed or it could be a roadster with a service bed added onto the back. While we are quite confident of the make of the "ladder car", we are not entirely sure of it's year of manufacture and invite our readers to offer opinions on that point.
In the late 1880's several small independent electric companies were working to bring power to Southern California. By 1897, the West Side Lighting Company and Los Angeles Electric Company had merged to form the Edison Electric Company of Los Angeles, which would go on to acquire other local companies and eventually become an international conglomerate. It was already well established and growing rapidly with the city of Los Angeles by the time that this photo was taken. Photo courtesy of The Huntington Library.