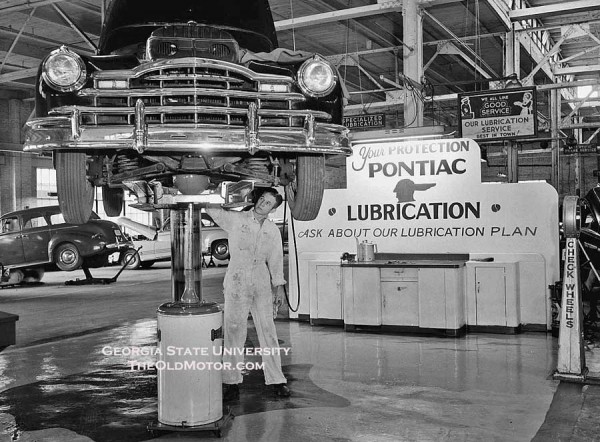 Anyone in business will tell you that it pays to have a company name that customers will remember. We think that the Boomershine Motors moniker illustrates the point perfectly . Here we have a day-in-the-life shot dated September 27, 1948 from the Lane Brothers Commercial Photographers of a '48 Silver Streak Pontiac on the lube rack, albeit a somewhat less elaborate one than this. The introduction of the sleek new '49's was just a few weeks away when the photo was taken. A brief but informative description of some of interesting aspects of the 1948 model, the last gasp of Pontiac's pre-war design, can be found here. 
The thumbnails (L to R, above) show a rather amusing paint design on the floor under the old style single post hydraulic lift, an ad for the 1948 Pontiacs courtesy of the Early Times Chapter of the Pontiac-Oakland Club International  and the stylish storage cabinet/work bench of a type that was once very common in auto dealer's repair facilities.
Boomershine's new car showroom was located at 425 Spring Street in Atlanta, Georgia at the time that these photos were taken, but we're not sure if the service department was located there or at their used car department. We invite our readers who are acquainted with this old dealership to let us know and also to inform us how Boomershine Buick located in nearby Smyrna might be related to it.
Below is a fine shot of their brand new Holmes 515 equipped 1950 GMC FC354 wrecker. This photo along with the one at the top and thumbnails one and three, above courtesy of Georgia State University .
In later years, Boomershine sponsored a Bud Moore prepared car driven by NASCAR pioneer Jack Smith. In it he took first place in the 1960 Daytona 500 qualifier, started second in the feature race and led 14 laps, finally finishing in the 23rd spot.