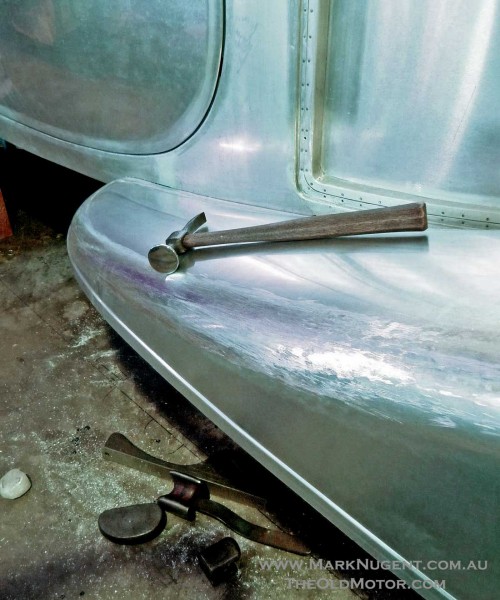 The art of coachbuilding goes back hundreds of years and appears to have originated in Europe when the first wooden carriage body was constructed. After the appearance of the automobile, the "carriage trade" first crafted wooden bodies for the earliest cars and later developed methods and skills to cover a wooden framework with sheet metal.
To show our readers a little of the work involved in this craft, Mark Nugent, an expert coachbuilder from Dubbo, New South Wales, Australia has supplied us with photos of a Rolls-Royce Silver Ghost, an SS Mercedes, Bentley and a Gull Wing Mercedes for which he has fabricated new bodies.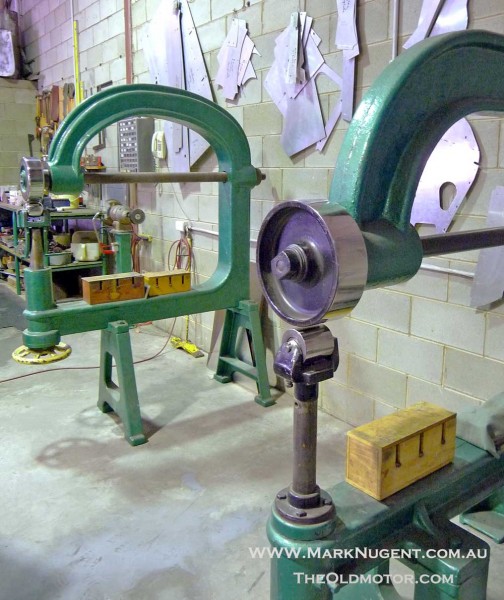 Two English wheels are used by the shop for most of it's metal shaping needs. The wooden boxes seen on each, carry lower wheels of different radii and shape for different metal shaping needs
Mark has been in the business for a number of years. He served an apprenticeship in Australia for a company that made Aston Martin and Jaguar bodies and was taught by two very skilled older Spanish men that worked there. He followed up with three years of further work with several expert coachbuilders in England.
Upon his return home, he established his own business and has since been fabricating and restoring a wide array of bodies for antique, vintage and classic road going and racing automobiles along with some vintage aircraft. To learn more, follow the photos and captions below which show some of the coachbuilder's work in process.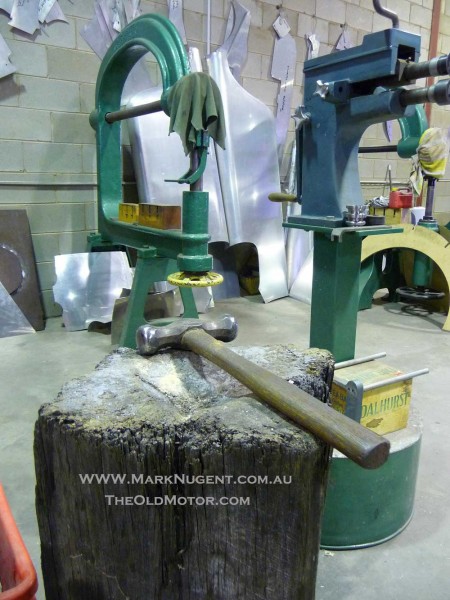 One other metal shaping aid that also sees duty in the shop is a hollowed out old timber and a hammer. Both are traditional metal shaping tools.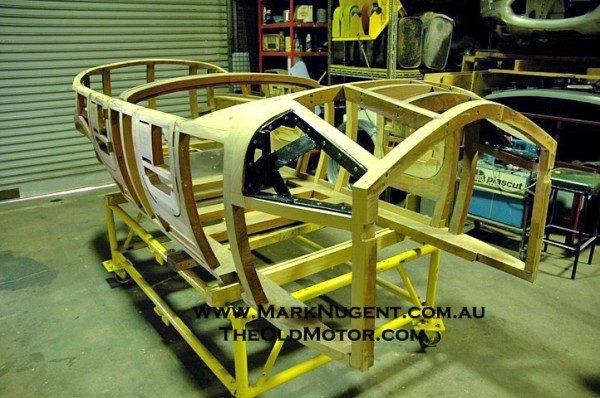 A new wooden framework for a Silver Ghost touring car body is seen here. Most traditional style early coachwork starts with a wooden frame. 
L to R: Fitting door trim, the shifter and hand brake cover on the Martin and King (Melbourne, Australia) bodied Rolls-Royce Silver Ghost. 
L to R: Inside view of the shifter and brake lever, overall view of the body and fenders. The fasteners seen holding the hood together are temporary Cleco fasteners. Lastly, a complete new gas tank fabricated for an early car.
L to R: New coachwork and fenders for an SS Mercedes, a Bentley Mk.V with custom coachwork in process, wooden bucks constructed as a guide for the fenders during the metal shaping process.
L to R: The first section of the fender offered up to the buck to check progress,  fender pieces close to finish shaping, sodium fluoride powder being mixed into a paste for traditional style oxy-acetylene welding flux.
L to R: Close fitting fender seam being tack welded,  front section of fender fitted and tack welded together and being checked on the buck before final welding.
A W194 Mercedes Gullwing racing car body which the shop fabricated can be seen below. To learn and see more visit www.marknugent.com.au