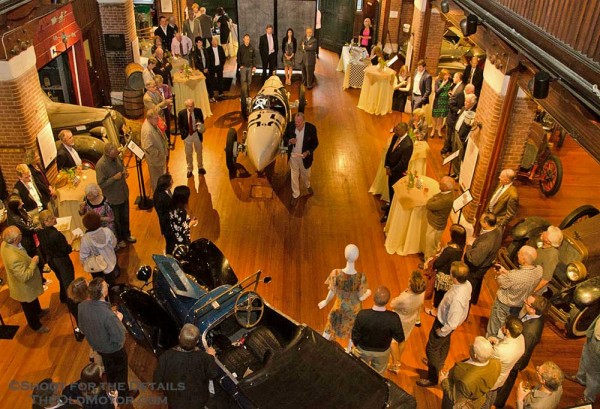 David Northey, Walter Owen Bentleys grandson, addressing the attendees.
By Maria Writesel:
The Larz Anderson Auto Museum of Brookline, Massachusetts, renowned for housing America's oldest car collection, opened their new exhibit on May 10th: Patina, Provenance, Originality: Thoughtful Preservation of Collectible Automobiles. Preservation of important automobiles, as both historic artifacts and industrial art, provides an important window into the technological ingenuity and design acumen of the early pioneers in auto manufacturing, motor racing, and the changes that the automobile brought to America in the 20th Century.
The Larz Anderson Collection, containing some of the rarest and most original early cars in the world, will be on display. In addition, vintage racing cars and other automobiles invited to the exhibit spanning the years from 1906 to1955, also illustrate the principles that guide collectors of important automobiles.
L to R (above) : A restored and unrestored pair of early Corvettes side by side for comparison, the 1940 Wetteroth-Offy-Milt Marion Special, 1938 Sparks-Thorne Little Six. 
Automobiles have had a profound impact on society since their inception, and in recent years a serious debate has begun about how to treat these antiques. Patina, Provenance, Originality delves into the collector's perspective, which takes into account the car's place in history, previous owners, feats and accomplishments of the car, driver or marque, technological advancements of the time, and the ability to document the originality of the car's components. To showcase these factors, the exhibit features exceptional examples of valuable original, preserved and restored autos, including a 1915 Duesenberg Board Track Racer that finished 2nd at the Indianapolis 500 in 1916.
L to R (above); 1952 "Wolcott Special" Kurtis 500A Indy Roadster, 1915 Duesenberg 16-valve Board Track Racer, 1938 Sparks Thorne Little Six.
"Preservation involves carefully maintaining the originality of the machine, but doesn't always produce that bright, shiny look of an expert restoration," Sheldon Steele, executive director of the Larz Anderson Auto Museum says.  "That's where the value of patina and provenance become apparent."
The exhibit will look at both paths, showing side-by-side examples of restoration and preservation, along with very rare, valuable and original historical vehicles, including a 1914 Mercer Type 35-J Raceabout, one of America's first sports-racing cars, and an important example of the iconic marque.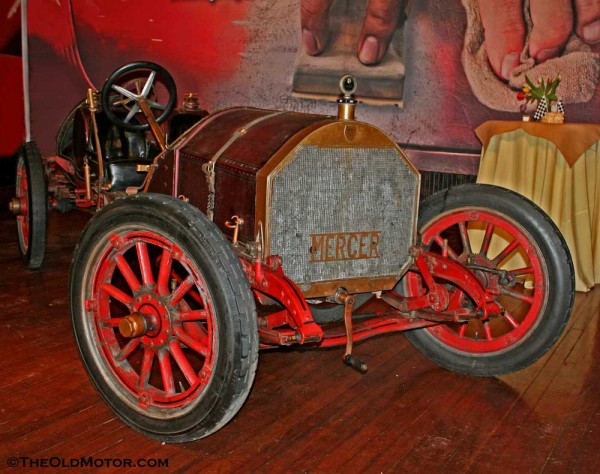 1914 Mercer 35-J Raceabout
Nearly a dozen vintage racing cars from 1914 to 1955 belonging to Brookline, Massachusetts automobile historian and publisher Joseph Freeman will be available for viewing, that is when they are not on the track, participating in events and shows, including this year's Indy 500 Vintage racing action!
L to R (above); 1914 Mercer Raceabout Boyce Motometer, 1915 Duesenberg Board Track Racer, a Hartford friction shock absorber on the Duesenberg.
L to R Above); Ford powered Sprint car, 1939 Koopman Offenhauser 97 Cubic Inch Oval Track Midget Racer, 1952 "Auto Shippers" Kurtis 500A Offy Indy Roadster
Passion for the automobile has also never escaped the attention of important artists, and the exhibit will also feature several period original Peter Helck drawings, one of which features the exhibit's Duesenberg, along with Massachusetts area racing charcoal renderings by John W. Burgess. Mr. Burgess was a racer during the 1920's and 30's and later the curator of the Briggs Cunningham Automobile Collection.
Also illustrating the value of originality will be a true "barn find" 1937 Packard 120 convertible (below, left)  from the Mary M. B. Wakefield Charitable Trust. It has been in the same ownership since new and is seeing the light of day for the first time in nearly 70 years after emerging from a barn in Milton, Massachusetts. A rare find indeed!
L to R; 1937 Packard Convertible Coupe, Packard mascot, 1922 H.C.S Touring Car, 1906 Cadillac.
Complimenting the exhibit are period spectator fashions offered by Professor Anne Vallely of Lasell College.
The educational activities of the Museum are an integral component of it's work and will relate to the exhibit, emphasizing key concepts expressed through the Museum's many arts and crafts activities, family fun days and community outreach programs for schools and groups.
New England Audi Dealers, longtime supporters of the Larz Anderson Auto Museum, are proud sponsors of the exhibit.  Patina, Provenance, Originality: Thoughtful Preservation of Collectible Automobiles, opened to the public on May 10, 2013, and will run through the early spring of 2014. Admission is: $10.00, for adults; $5 children and active military.  For information visit: www.larzanderson.org, or call 617 522-6547. Photos by Joshua Sweeney- Shoot for Details and The Old Motor.