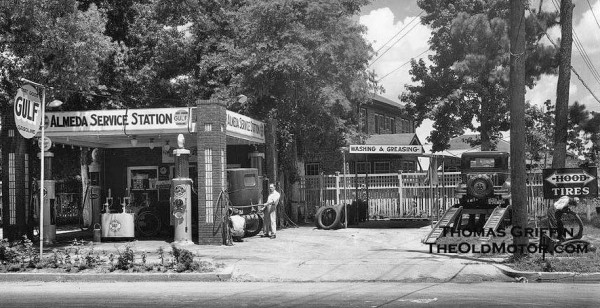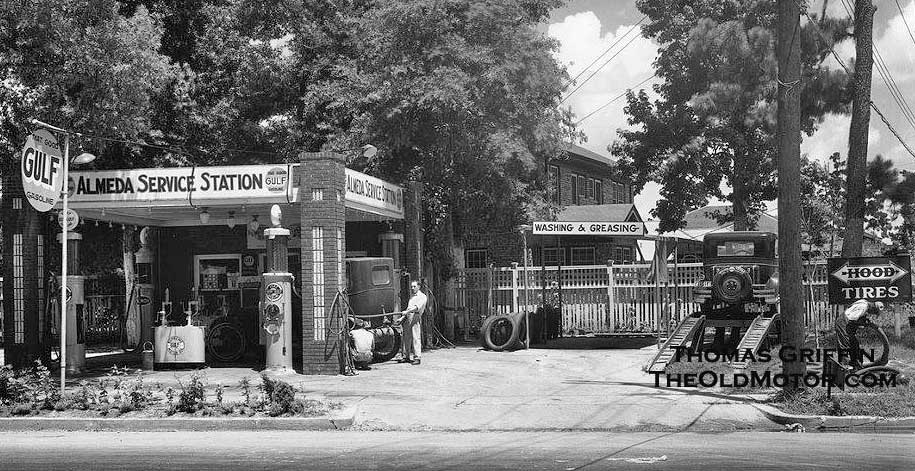 Almeda, Texas is located approximately 200 miles southwest of Houston and back when the photo was taken of this service station, the town contained only about 100 people. The scene looks as though it includes everything needed for a perfect Norman Rockwell painting showing small town life.
Four large visible pumps dispensing That Good Gulf Gasoline can be seen and the 1920's Dodge Brothers sedan (with optional wire wheels) under the station canopy is getting it's tank filled by one attendant. Another is checking a rear tire. To the right of the late 1920's Nash sedan seen on the outside ramp is a man at work dealing with tire service. Be sure to see the two enlargements below which show the scene in detail. Photo courtesy of Thomas Griffin.
The White truck in the right hand photo (above) is if the type that may have delivered gas to a station like this back in the period. It was photographed at Gulf Oil Refining Bulk Plant in Indianapolis, Indiana and is courtesy of Dennis Wall.
According to the Gulf Oil Company, the early history of the company from 1909-19 is as follows." When Gulf was born in 1901 with an oil discovery in Spindletop, Texas, the primary commercial fuel was coal. By 1903, the age of mechanization had arrived and it was now up to the petroleum industry to keep pace, for the age could not proceed without it. Gasoline development, into which Gulf invested millions of dollars, responded to advances in automotive technology. Within a dozen years of Spindletop, Gulf scored notable firsts with the world's first service station, complimentary Gulf road maps and over water drilling at Ferry Lake. In 1917, the Gulfstream went into World War I service, along with the rest of Gulf's tanker fleet."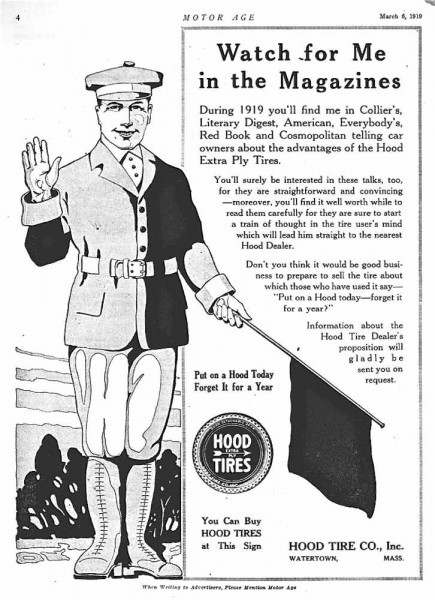 After seeing the Hood Tire sign in the scene above, we were curious to learn more about the Company and the tires that they made. The advertisement above was found in the March 2, 1919 issue of the Motor Age and was aimed convincing garages and service stations to come on board as Hood Tire dealers. The brothers Frederic Clark Hood and Arthur Needham Hood founded the Hood Rubber Company in 1896. According to Harvard University, their main products in addition to tires were rubber boots and sneakers.