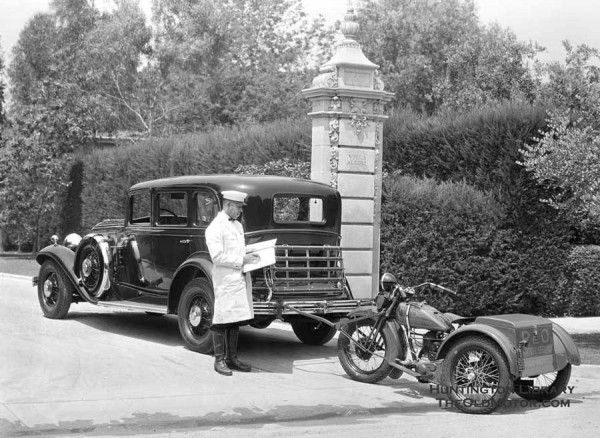 The lucky owner of this impressive Reo Royale was the recipient of the kind of service that we can only imagine today. This 1932 photograph appears to depict the return of the big sedan from a service appointment to the owner's substantial Pasadena home, dubbed "Villa Alegre" or "joyous country house". Indeed, we think that both the car and the house are two very good reasons for the man who owned them to be quite happy. Near as we can tell, the rider and the Harley-Davidson Servi-Car on the tow bar come from a Reo dealership on Fair Oaks Avenue, also in Pasadena. Route 66 passes along a section of Fair Oaks Avenue as it heads toward South Pasadena.
Back in those days, it was not uncommon for an automobile agency to pick up a busy customer's car at his home or business and return it when they had completed the work. To do this, employees would run out to where the car was located on a trike, hook on to the car (in this case with a clamp-on bumper hitch) and drive back to the shop with the motorcycle in tow. The process was reversed for delivery. Newly purchased cars were also sometimes delivered to a customer in a similar manner. Below are a few pages from a 1932 Servi-Car brochure which describe this intended use in more detail and shows towing equipment somewhat different from the set up in our photos.
Most Servi-Cars were powered by the Harley 45 cubic inch V-twin, but this one appears to have one of the H-D 30.5 cubic inch single cylinder powerplants installed. Our research also tells us that the Servi-Car debuted in 1932, yet this one carries a 1931 tag leading us to believe that it was a very early model. We invite our readers to tell us what they might know about this smaller engine and it's use in the Harley utility vehicle.
Photographs courtesy of the Huntington Library. Servi-Car brochure pages courtesy of DM45Homepage.com