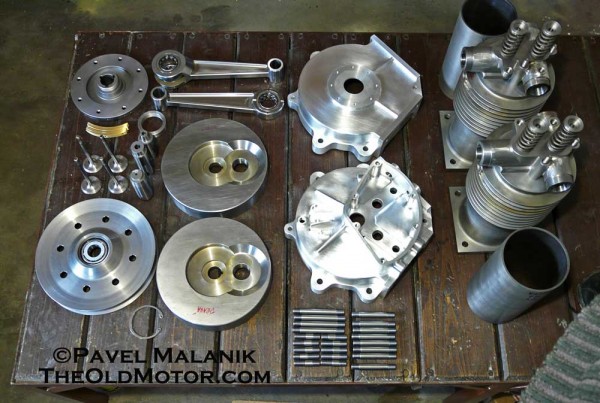 The last time we showed you the progress on this project, Pavel Malanik had finished up machining the valve and port housings and also the flywheels and connecting rods. First off here in Part V, he has most of the engine parts, the majority of which he machined from scratch, laid out for you to view. In this post, we will also show you several more components he has crafted since we last visited with him.
In the center, above, can be seen an existing piston for a different application that was cut in half and built up where needed for a casting pattern. The inside of the two halves served as a mold for making the sand cores that formed the inside of the pistons during the casting process. You can find a good overview of the sand casting process here. That accomplished, the pistons were cast and above, right, we see one of them chucked up in a lathe where it's inner surfaces are being machined.
One of the finished pistons can be seen in the left image, above, for comparison beside a modern and much smaller one from a BMW twin-cylinder motorcycle. In the center is a cast iron cylinder sleeve being readied for insertion into one of the steel cylinder barrels. The last photo shows the front pulley for the drive belt that was machined from a solid piece, along with it's center hub and bronze clutch facings, which will be fitted into the back of the pulley.
In our last communication with Pavel, he said that he was assembling the engine and would then be moving on to begin building the rest of the machine. We will share more photos of it in the future, but in the meantime, if you are new to this impressive project, you can look back at Parts I-IV here.