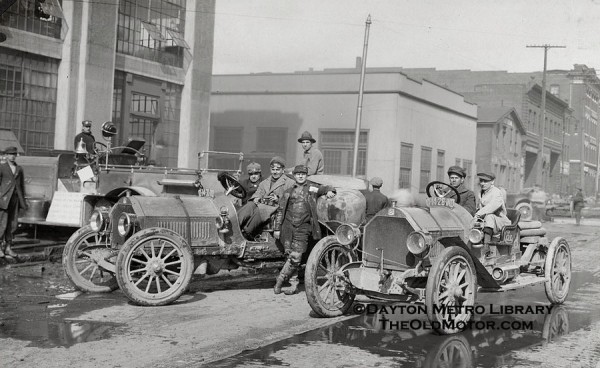 This post shows vehicles used to work at the clean-up at the site of the Delco Electric Plant, after mother nature had unleashed a historic flood in Ohio during March of 1913, that inundated the city of Dayton. In a later post we will show some of the other interesting equipment used in the city during the campaign.
L to R (above); The clean-up crew at Delco, with an Ahrens-Fox engine pumping water and two 1913 Cole sixes. Both cars are carrying Indiana plates. 
The following is part of a post from the Ohio Historical Society site telling of the flooding in Dayton and elsewhere. "The statewide extent of death and destruction in the Flood of 1913 exceeds all other weather events in Ohio history, justifying the title of  'Ohio's greatest weather disaster.' Rainfall over the state totaled 6-11 inches and no section was unaffected. The death toll was 467 and more than 40,000 homes were flooded."
L to R (above) : A steam-powered engine can be seen assisting the Ahrens-Fox and the Cole can be seen again in the foreground, a postcard showing an Ahrens-Fox "Continental" model of the type at work in the photos, and another view of the scene again showing a third engine pumping water, a good sized touring car and the again Cole carrying a canoe in addition to the other equipment.
"At Dayton, the Great Miami River flooded 14 square miles of the city and water ran in swift currents 10 feet deep through downtown streets. The flood killed 123 people in Dayton. Downstream on the Miami River, there were about 100 deaths in Hamilton where water was 10 to 18 feet deep in residential areas. Approximately 100 died in Columbus when the Scioto River reached record levels and poured 9 to 17 feet deep through neighborhoods. Many Columbus residents escaped to the safety of rooftops and trees. Thirteen people were rescued from a single tree. Downstream, most of Chillicothe was under water."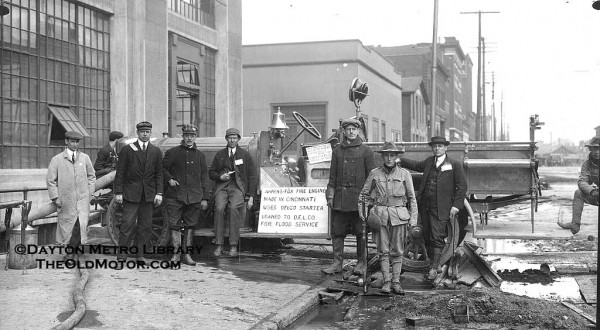 The Ahrens-Fox "Continental" and crew are seen here posing for their portrait while pumping water out of a basement. A couple of soldiers can also be seen in in the photo as the city at the time was under Marshal Law.
 The Cuyahoga River washed away docks, lumberyards, trains, and rail yards in Cleveland. Seven locks were dynamited on the Ohio Canal at Akron, allowing the floodwaters to pour into the Cuyahoga. Levees along the Ohio River at Portsmouth were topped, flooding 4,500 homes. The Ohio River at Cincinnati rose 21 feet in 24 hours. A system of flood control reservoirs was established by the Miami Conservancy District after the flood of 1913."
Ohio History also has 24 excellent images along with the rest of the story of the flood and a very interesting film all about it. The Dayton Daily News also has 42 interesting photos of the historic Flood of 1913. Photos courtesy of the Dayton Metro Library.