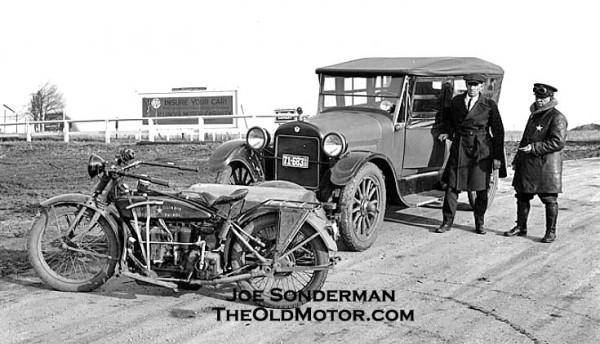 * Up Dated * Our knowledgeable readers have come though one again and identified both the 1923 Reo and the circa 1920 Henderson Four. Thanks to; Jon Lee, Raul, Justin Johnson and Dan Haynes.
This Tuesday morning we have a double mystery for you to work on and try to help us solve. The only clues that came with this photo are that it was taken on Illinois Route 4 and 10 during 1924 (2 years before Route 4 became US 66).
We do not know what motor company produced the touring car, but it has enough distinctive features that should help you car sleuths out there to pinpoint the maker and the year. The motorcycle we have been able to identify but do not know the exact year it was made. So put on your thinking caps, go to work and let us know what you can find out. We will wait 24 hours before we post readers answers to give you some time to work on it. Photo courtesy of the Joe Sonderman Collection (scroll down).