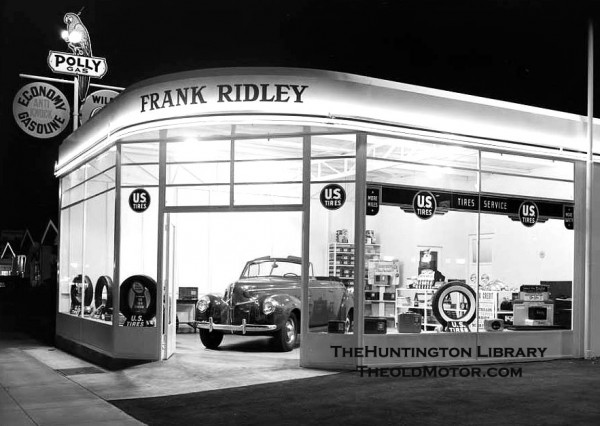 These brightly lit gas stations harken back to a time when they had actual mechanics on duty well into the night and they weren't just cash cows dispensing fuel and junk food snacks. Frank Ridley's Service Station (above), located on the 1100 block of 10th Street in Santa Monica, California exhibits a snappy looking 1940 Mercury convertible amidst many accesories than might prove useful to the midnight motorist. The Polly Gas logo (sign, upper left) has always been a favorite of ours. His spotless service bays in the first two thumbnails (below) show a mechanic using an old time engine analyzer, what looks like an alignment rack, a brake lathe and the shop truck.
Brownie's Day & Night Service Station located at 3126 E. Florence Avenue in Huntington Park, California (last, thumbnail above) also offered Polly gas as well as Mobil. Our information is that the brand existed in southern California from the early 1920's until 1950 when it was sold to Wilshire Oil who dropped the name, but invite our readers to fill in the details about the company. Note the outdoor single post in-ground hydraulic lift on the extreme left side of that shot, an item seldom seen today. The practice of selling multiple brands of gas at the same station is also a relic of the past.
Lastly, it looks  it was like a pretty quiet night at Mooney's Wilco Gas and Sieberling Tire Store (below). Evidently, the bright neon and the offer of 1000 gallons of free gas weren't enough to attract any customers. Photos courtesy of Southern California Edison Photographs and The Huntington Library.