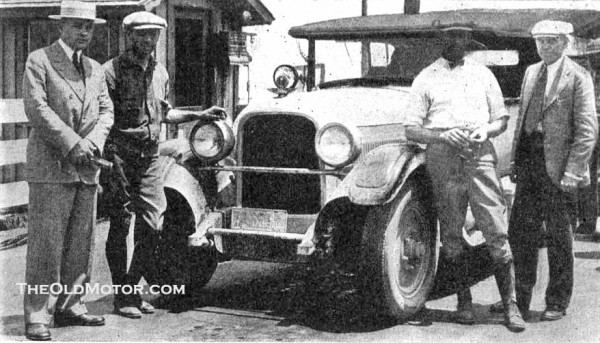 Much has been written about Ab Jenkins and his exploits on the salt at Bonneville with his Mormon Meteor racing cars. In this post, we've decided to explore some aspects of his earlier career on four wheels.
On August 9, 1923, David Abbot "Ab" Jenkins, Jr. picked up the high speed endurance gauntlet thrown down by Erwin G."Cannonball" Baker by driving the 194 miles from Salt Lake City to Fish Lake, Utah in 4 hours and 24 minutes at an average speed just over 44 miles per hour. It would be the first of a long string of record runs over the next 33 years, on both public roads and closed courses. Just two years later, in a contest with a Union Pacific steam locomotive, he raced from Salt Lake City to Wendover, Utah, a distance of approximately 120 miles and beat the coal burner by five minutes.
L to R (above):, an article from the September 1, 1926 Motor Age that describes the 1926 cross country run, a foursome of Studebaker roadsters and sedans that took part in the 1928 24-hour record run at the Atlantic City Speedway, Ab Jenkins and his team at the Amatol, New Jersey board track after the run in a photo from the January, 1929 issue of the Auto Trade Journal.

In 1926, he and co-driver Ray Peck drove a 1926 Studebaker Sheriff  from New York City to San Francisco in 86 hours and 20 minutes, beating the time of the fastest transcontinental train of the day by 14 hours and thus established himself as a worthy heir to Baker's crown. Awaiting him at the finish in California was a contract to work for Studebaker doing exactly what he had been doing all along just for excitement. This run made Ab Jenkins a household name all across America.
His exploits would continue with Studebaker and later with Pierce-Arrow after the South Bend company acquired a controlling interest in Pierce in 1928. Jenkins and his co-drivers, L.L. Corum, Zeke Meyer, Ralph Hepburn and Billy Winn set the then remarkable 24 hour average speed record of more than 72 miles per hour on the board track at Atlantic City in a brace of Studebaker Presidents that same year (see thumbnails, above).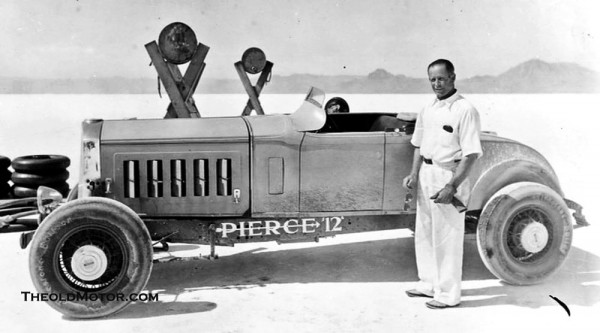 Jenkins posing (above) with the 1932 Pierce-Arrow roadster he used for his first 24 hour record attempt on the Bonneville Salt Flats .
In September of 1932, Jenkins' turned his attentions to the salt flats in his native state of Utah. He chose the V-12 powered roadster seen above as his mount, having been on Pierce's payroll as a development engineer since 1931. This became the first timed run made at Bonneville since Teddy Tetzlaff set a blistering unofficial straight line pace of 141.73 miles per hour in 1914 in the legendary Blitzen Benz. Jenkins made his run on a huge circular course and at the end of the day, his numbers stacked up like this: 112.91 miles per hour for 24 hours for a total distance of 2,710 miles.
Although he made numerous pit stops for fuel, food and drink, he never left the seat of the big Pierce for the duration of the run and the engine never skipped a beat. But while he and Pierce management were quite pleased with the results, that formidable record would never be recognized by the AAA Contest Board, the official sanctioning body for endurance attempts at the time. They had suspended and fined him for a number of alleged infractions at Muroc Dry Lake the previous year and thus refused to certify this epic run.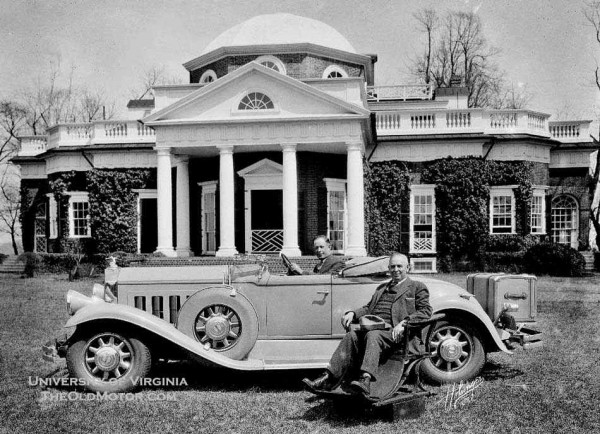 Jenkins is seen (above) at Thomas Jefferson's Monticello,Virginia home with the 24-hour car back in road trim after the 1932 endurance run at Bonneville. This appears to be a promotional photo with an unknown man sitting in Jefferson's gig seat (buggy seat).  University of Virginia Library photo.