Ernest O. Thompson was a pioneer north Texas agent for Overland and this photo was taken in front of his Amarillo garage. We believe that the handsome little touring cars seen in our top photo today are 1910 models, of which four different models were produced. We invite our readers to venture their opinions on the year of manufacture.
It had been just seven years since the Terre Haute, Indiana based Standard Wheel Company financed Claude E. Cox to design and build the first primitive Overland in 1903. The Model 13 was a 4-5 horsepower single cylinder, tiller steered runabout on a 66 inch wheelbase. The product had obviously come a long way in the short time that had passed between 1903 and the year of our featured photo.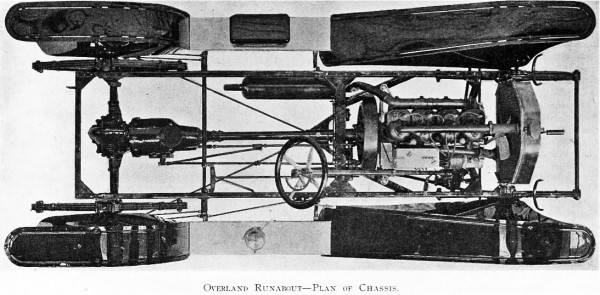 A plan view of the Model 38 chassis from The Automobile Magazine.
It was John North Willys who saved the fledgling company from financial difficulties in 1907 and lent his expertise to building a successful car company. He would stay at the helm for the next 22 years and lay the groundwork that enabled the company that bore his name and that of Overland to continue producing a wide variety of motor vehicles for decades to come.
You can find much more information about Overland cars and the company here on The Old Motor (scroll down). You can also visit the Willys Overland Knight Registry for full company history and more information. Top photo courtesy of The University of North Texas Libraries. 
L to R (below); An ad with specifications for the Model 38, 40, 41 and the 42