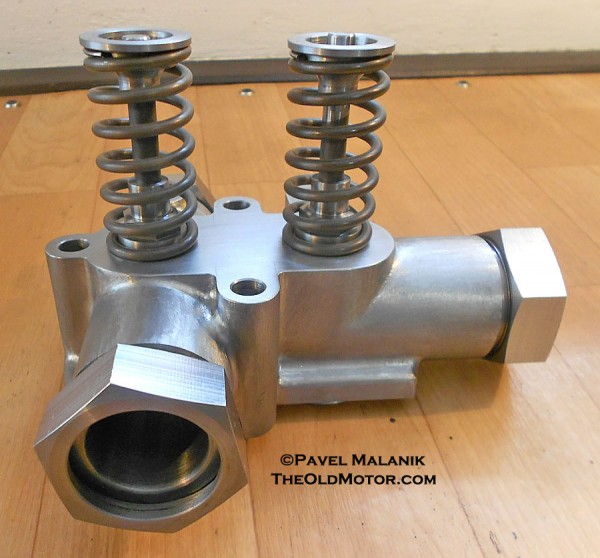 In our last installment, Pavel Malanik, who is building an incredibly interesting machine powered by a 165.62 cubic inch (2,714 c.c.) J.A.P. engine, finished up machining the valve and port housings for the V-twin. Just (above), you can see one with the newly machined valve guides, valve keepers and retainers and the packing nuts for the intake manifold and exhaust stacks installed.
An unusual feature of this engine design can be seen in the first thumbnail (above). While the valves are installed in the valve and port housing, they extend beyond the bottom of that component into the closed top of the cylinder where the valve seats are located (see cutaway drawing, below, of a smaller engine of similar design).
There are no head gaskets, per se. During final assembly, the valves are installed up from inside the cylinder into the valve guides and the valve and port housings are bolted to the top of the cylinder. Earlier photos of the cylinders in  Part II  show the tops of the cylinders and give you a clearer idea of how it all fits together.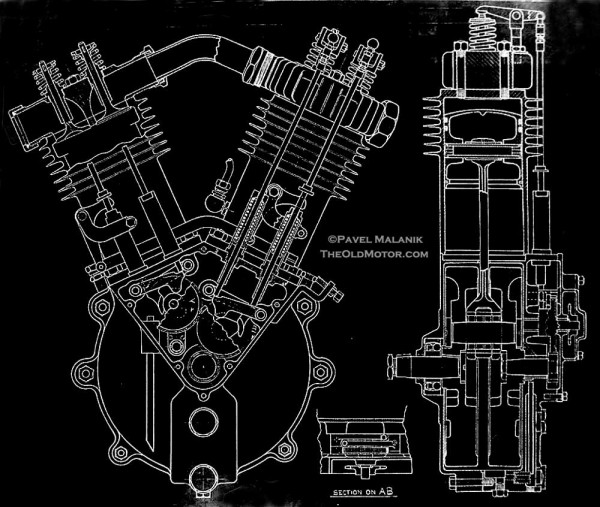 Below you can see one of the two flywheels being turned in the lathe (left). The second image shows it being bored and spot-faced for the crankpin. The third thumbnail illustrates the fork and blade style connecting rods, the roller bearings with hardened races and the crank pin. When installed on the crankpin between the two flywheels, the rod (blade) at the bottom of the photo fits into the upper (forked) rod.
Our last photo shows the almost completed rotating assembly. A second flywheel will be attached to the crank pin when it's done. Next time around we will show you more of the completed lower end and crankcase, the sleeves for the cylinder barrels, the patterns he made for the pistons and the pistons that Pavel machined from the castings. You can see Part III  and Part V showing the construction of this very special motorcycle here on The Old Motor.