We don't know very much about these very early racing machines, but they're so odd looking even to our eyes that we thought you might enjoy seeing them, too. That interesting rocket-like tank with the pointed nose on the Stayer (above)  is the radiator that cooled the engine on this two-man motorcycle. It was powered by an Aster engine and the legs of both riders.
The 1902 Buchet-powered tricycle (left and center, above) clearly displays the simplicity of these early designs. It is little more than an engine, final drive, frame and wheels with a seat for the rider. One feature that we found interesting is the trumpet-style air intake for the carburetor visible in the center thumbnail (above), which may be the earliest known ram tube or velocity stack. More details on this machine can be found just (below). On the right (above) is a converted bicycle with an inline V-twin engine and shaft drive.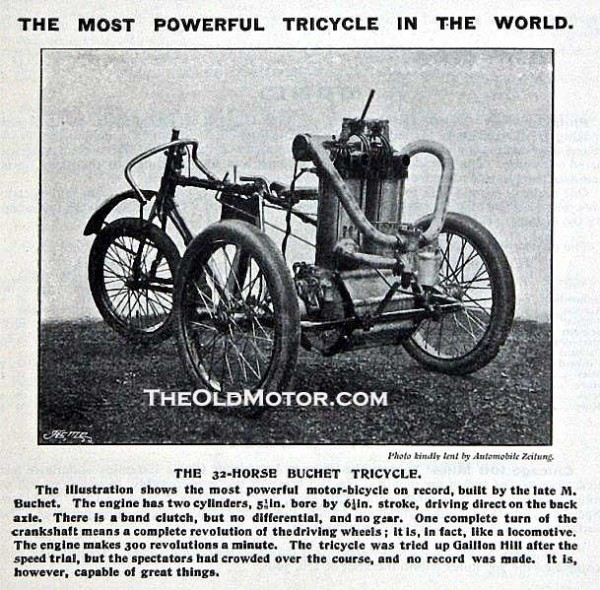 The 1903 Buchet-powered machine seen (below) makes even fewer concessions to the comfort of the rider than the Buchet. The brave soul who rode it was expected to do so without the benefit of a saddle of any kind. He simply straddled the rear mounted tank and thundered along with the twin exhaust stubs blasting away directly under his chest. You can view another unusual French machine of an entirely different design here in an earlier post on The Old Motor.