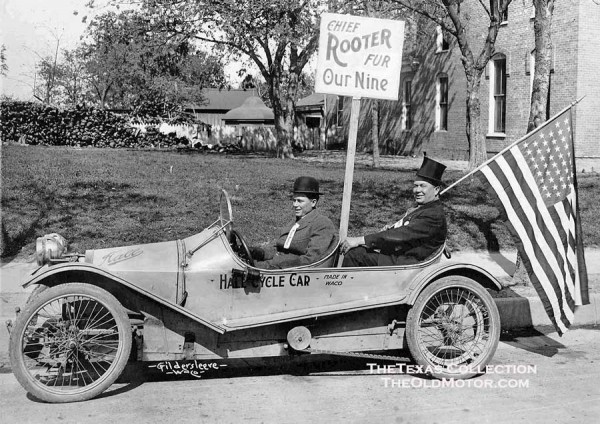 The Hall Cycle Car ferrying the "Chief Rooter" for a Baylor University sports team, presumably their baseball club.
The Hall Cycle & Plating Company of Waco, Texas kept quite busy selling bicycles and Flanders motorcycles but in 1914, company principle Lawrence Hall decided to get into the fledgling cyclecar business with the 18 horsepower four cylinder machine seen above. A rather complete appearing and well thought out design, it could be converted into a light delivery van by removing the rear seat, an unusual feature for vehicles of this type.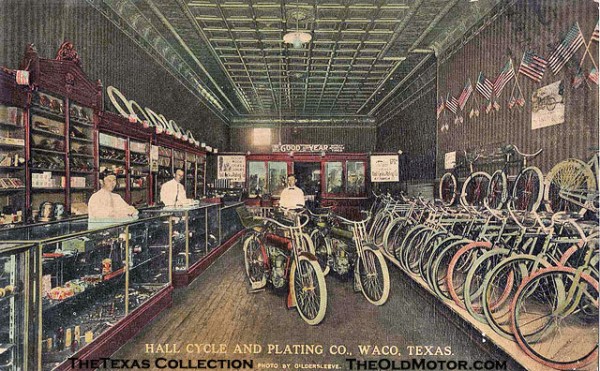 Hall Cycle & Plating Company was reorganized into the Hall Cyclecar Manufacturing Co. and was incorporated with a capital stock of $25,000 (see left and right thumbnails, below). Hall moved toward production and it was reported in the January 10, 1914 edition of Automobile Topics that he hoped to sell copies for $400.
Partners Lawrence Hall and John B. Fisher were active in the local Young Men's Business League. The center thumbnail (above) shows one of their Flanders motorcycles and a banner promoting the business.
The cyclecar boom was brief.  Sales were severely undercut by the early 1920's when larger companies like Ford began marketing conventional cars at competitive prices.  In 1915, manufacture of the Hall Cyclecar ceased. Large photos and postcard originally by Fred R. Gildersleeve of Waco, Texas courtesy of  The Texas Collection at Baylor University.