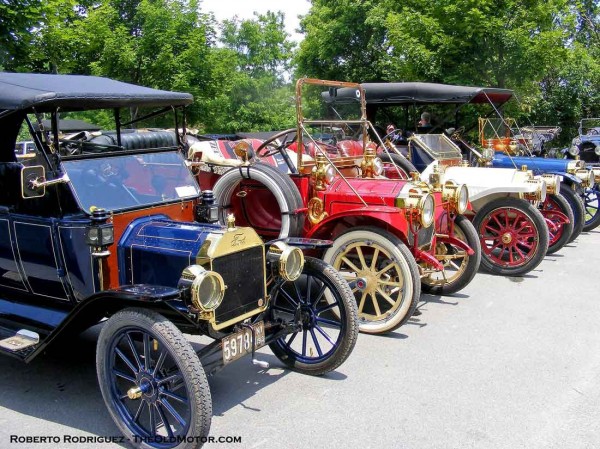 A Model "T" Ford, Model 18 Packard, Model 30 Locomobile and a Model "K" Ford.
Although the weather was less than perfect, drivers of around 125 pre-1916 cars recently participated in this year's Horseless Carriage Club of America's New England Gas and Brass Tour sponsored by the Autoneers chapter. Held every two years in the region, the schedule of this popular event included four days of touring that covered between 50 and 125 miles each day most of which were in Vermont but with some forays into New York State. A short mid-week mystery tour kept things interesting.
Vehicles come from all over the country and typically run the gamut from a one cylinder Cadillacs to the largest six cylinder luxury cars of the era. Various routes include many back roads that are not so very different from the time when these venerable cars were brand new. The accompanying photos sent to us by Roberto Rodriguez are but a small sample of this year's group. You can find out more about the HCCA here.
 L to R (Above) : A Reo touring car and a Hudson, a handsome Model 30 Packard dashboard and a Model 30 Cadillac  Below, (L to R) : A Model "K" Ford, an E-M-F Model 30, and a Hudson roadster converted into a pickup truck .