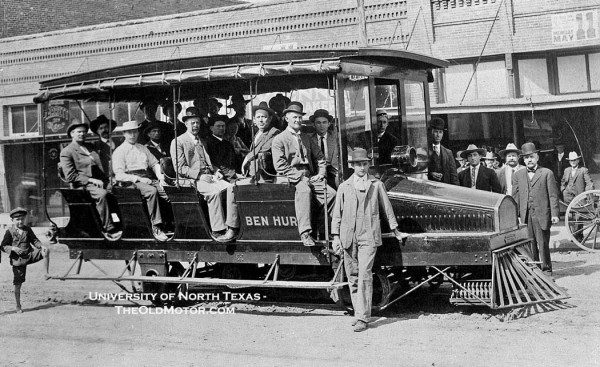 If the large number of mineral water spas and "water cure" resorts around the U.S. in the late 19th and early 20th centuries were any indication, we were a severely dehydrated people back then. The fashionable place to go in sweltering north central Texas at the time was Mineral Wells. Known as "The Town That Was Built on Water" from 1885 when the so-called "Crazy Well" was dug, the village was an oasis for sufferers seeking relief from ailments both physical and mental. It has been suggested the high lithium content of the local waters probably had a lot to do with their beneficial effect on those afflicted with the latter. By 1920, about 400 separate wells were operating.
But our photo from around 1908 depicts an endeavor that was slightly less successful than the numerous therapeutic destinations that had sprung up around town by that time. It's an unusual gasoline-powered streetcar running on the Mineral Wells, Lakewood Park and Scenic Railway, shown here on Mesquite Street. The line was owned by local business people and carried passengers from Mineral Wells to the recreation area of Lake Pinto where Edward Dismuke's "Famous Mineral Water" wells were located. Unfortunately, the railway ceased operation in 1909, about a year after the "Ben Hur" was added to the fleet.
We were unable to uncover construction details of this nice looking little four-wheeled "dinky" as it was called, so if anyone can add more to the story please send us a comment. Take a look at our photos of Saratoga Springs, N.Y., another "water cure" resort and you'll see a busy downtown scene filled with the streetcar's replacements. Photo courtesy of The University of North Texas Libraries.