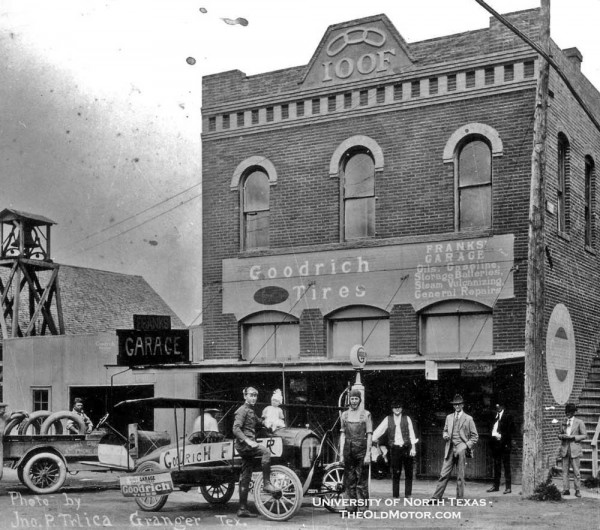 Frank Danforth's Garage and International Order of Odd Fellows Lodge in downtown Granger, Texas. L to R : Frank Martinets, baby Dan Martinets, E. Blaylock, Frank Danforth, and three unnamed others.
Frank Danforth certainly chose an odd way to promote his primary product, Goodrich Tires, but surely went to great lengths to do so. Apparently not content to equip a Model "T" Ford Speedster with just a pair of wings, he added such details as the attendant struts, wires and a propeller, too. (Left thumbnail, below)
Such creativity makes us wonder if he was also responsible for the large sign overhead that lists the products and services he provided to the motoring public.Whether or not he did, we found this photo quite entertaining and, judging by the bemused expressions on the faces of some of the participants, they were having some fun, too. You can find more Texas related photos on The Old Motor. Photo courtesy of The University of North Texas Libraries.